Court Declines to Order OSHA to Issue Permanent COVID-19 Safety Standard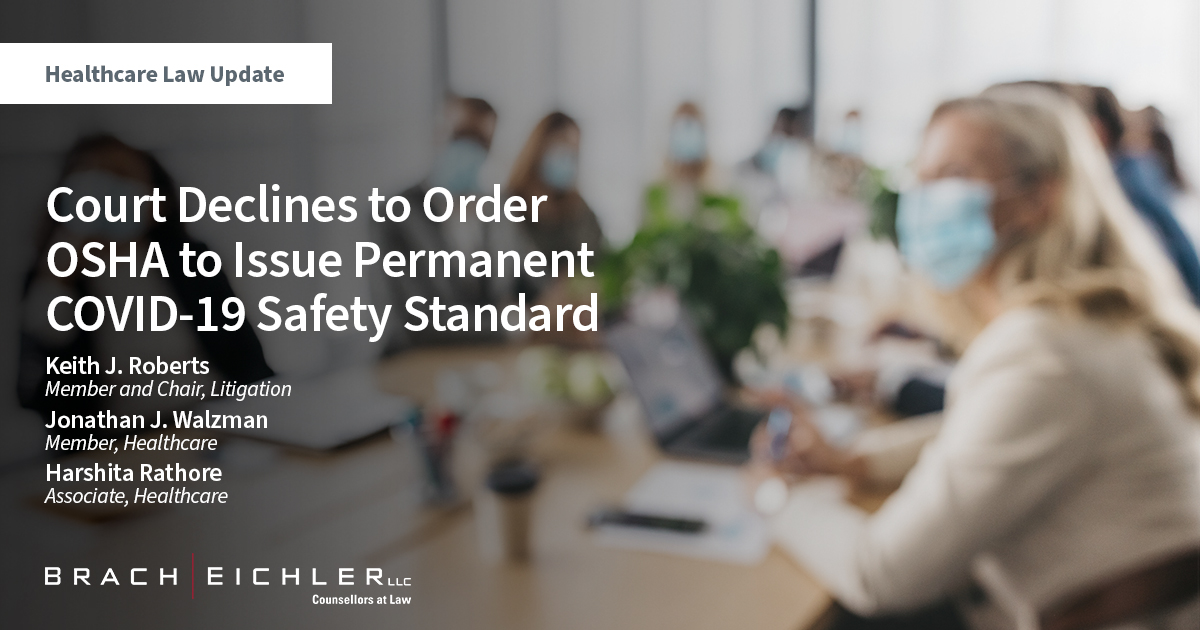 BACK TO INSIGHTS
Articles
On August 26,2022, the United States Court of Appeals for the District of Columbia Circuit denied a petition to order the Occupational Safety and Health Administration (OSHA) to issue a permanent standard on COVID-19 safety measures for healthcare settings. In June 2021, during the COVID-19 pandemic, OSHA promulgated an emergency temporary standard (ETS) to mitigate the risk of COVID-19 transmission in healthcare settings which required healthcare employers to conduct hazard assessments, grant paid time off for workers to get vaccinated against COVID-19, and have written plans to mitigate the spread of COVID-19, among other measures. In December 2021, OSHA announced its intent to withdraw the ETS, while continuing to work on the permanent standard.
A coalition of various labor unions representing several types of healthcare professionals petitioned the Court to compel OSHA to maintain the ETS until OSHA can promulgate a permanent standard to supersede the ETS, and issue a permanent standard to supersede the ETS within 30 days of the Court's order and enforce the standard of the ETS. According to the petitioners, the safety and well-being of healthcare workers would be placed in grave danger without the protections provided by the ETS and a more permanent set of standards to replace the ETS.
The Court unanimously held that the Court does not have the authority to compel OSHA to retain the ETS or to dictate a timeline for OSHA to create a permanent standard. Further, the Court noted that it could only compel OSHA to act for transparent violations of a clear duty to act, and while OSHA has a clear duty to follow the ETS with a rulemaking proceeding, OSHA does not have a clear duty to promulgate a permanent standard at the end of that proceeding. As such, the Court held that enforcement of the ETS is squarely within OSHA's discretion and OSHA is permitted to determine whether or not a permanent standard should be issued.