Isabelle Bibet-Kalinyak and John D. Fanburg Recognized as 2022 Northeast Trailblazers by The American Lawyer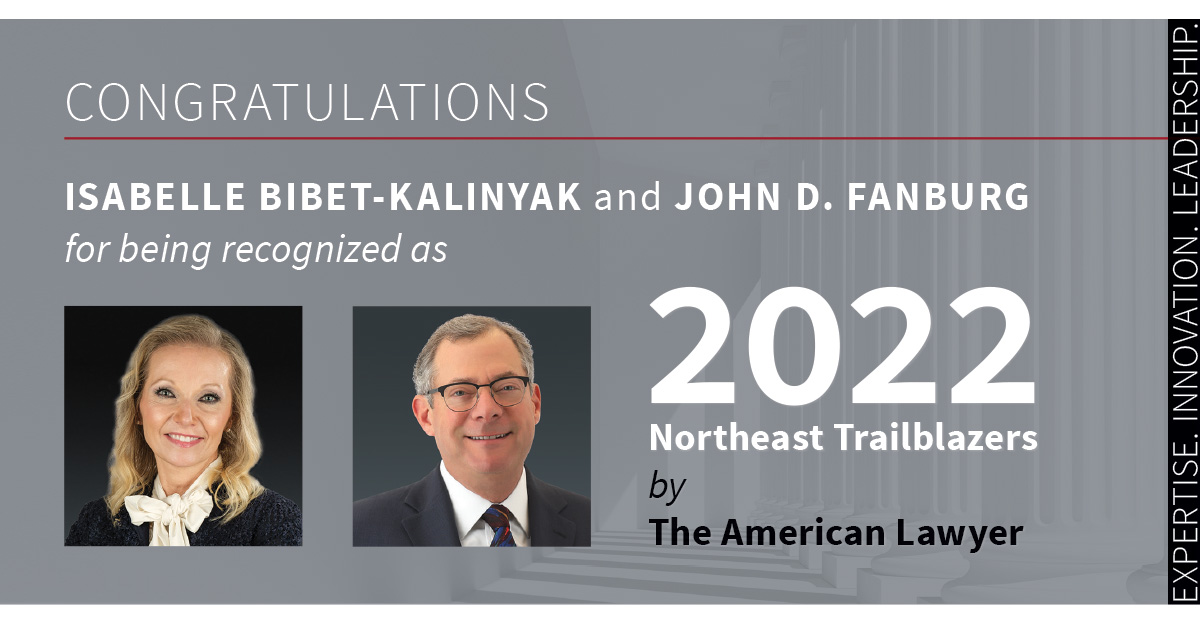 BACK TO INSIGHTS
Awards
Roseland, NJ (June 1, 2022) – Brach Eichler is pleased to share that for its list of Northeast Trailblazers, The American Lawyer has picked Healthcare Law Member Isabelle Bibet-Kalinyak, as well as John D. Fanburg, Managing Member of the Firm and Chair of the Healthcare Law practice, among the honorees.
According to Am Law, the Trailblazers are those who have "moved the needle in the legal industry and are agents of change," having left their mark on practice, policy and technological advancements in their sector.
Isabelle Bibet-Kalinyak was recognized for her keen affinity in the healthcare industry and her deep knowledge of the sector where she serves as a trusted legal advisor to health systems, specialty hospitals, telemedicine virtual platforms and physician group practices.  Isabelle combines a focus on results with a client-centric approach when counseling on the business and compliance aspects of healthcare law in connection with transactional, corporate, regulatory, and governance matters. The depth of Isabelle's experience enables her to assist clients in evaluating both the legal and business ramifications of transactions, contracts, agreements, negotiations, and compliance issues.
John D. Fanburg was recognized for showing up for physicians and health care institutions in corporate, transactional, and regulatory matters. He's well known in New Jersey's bustling health care industry for his excellence in transactions, perseverance in deal-making, and strength in corporate and regulatory matters, and throughout the pandemic has without a doubt been someone health care organizations look to for steady, trusted guidance. His broad experience representing major hospitals, diverse medical groups, solo practitioners, and statewide physician specialty groups has armed him with deep knowledge of the ins and outs of healthcare business practices.
"Isabelle and I are incredibly proud to have been chosen among such esteemed, leading practitioners and professionals," John said. "We're thrilled to be recognized as "agents of change" and look to continue to move the needle in the legal industry to further advance our clients' businesses."
The "Northeast Trailblazers" list is published by ALM Media Properties, LLC.  Selection was via a nomination process of "professionals who have made significant marks on the practice, policy and technological advancement of their practice."
About Brach Eichler LLC
Brach Eichler LLC is a full-service law firm based in Roseland, NJ. With 80 attorneys, the firm is focused on the following practice areas: Healthcare; Real Estate; Litigation; Trusts and Estates; Corporate Transactions & Financial Services; Personal Injury; Criminal Defense and Government Investigations; Labor and Employment; Environmental and Land Use; Family Law Services; Intellectual Property & Information Technology; Real Estate Tax Appeals; Tax; and the Cannabis Industry. For more information, please visit www.bracheichler.com.