PIP Update – NJ Federal Court Refuses to Dismiss Insurance Fraud Cases Against Physicians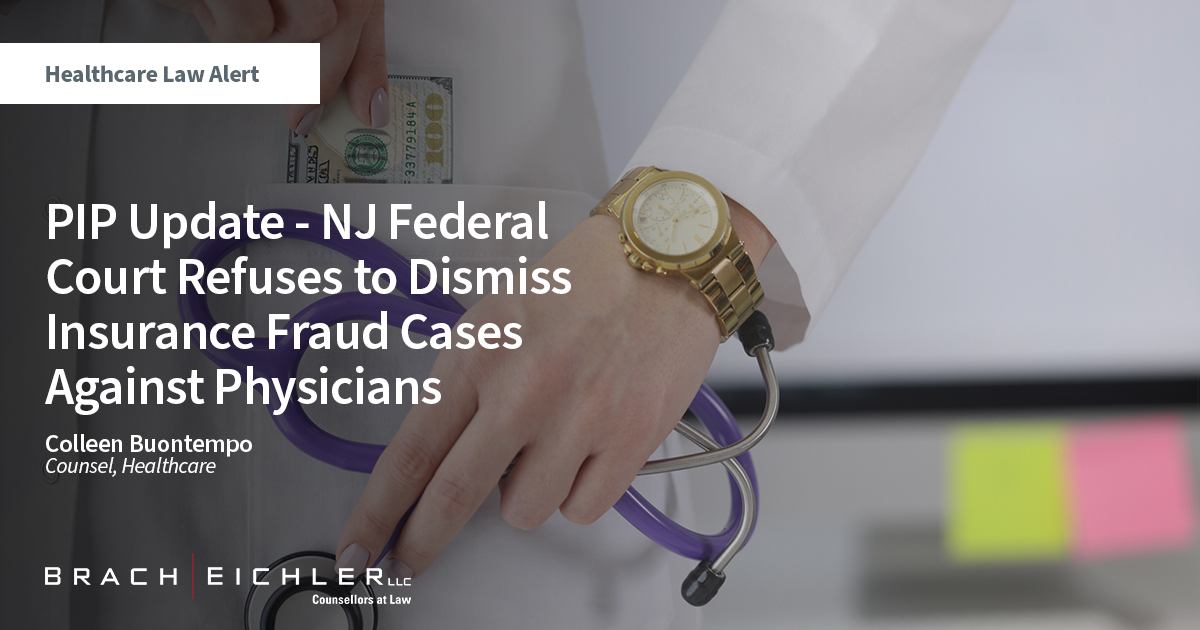 BACK TO INSIGHTS
Alerts
A person or practitioner violates the New Jersey Insurance Fraud Prevention Act ("IFPA") by presenting false or misleading statements in connection with an insurance claim, or by omitting information that materially affects an individual's entitlement to insurance benefits. [N.J. Stat. Ann. § 17:33A-7].

IFPA violations are NOT subject to PIP arbitration, and must be resolved in court.

Recently, there has been confusion about the dismissal of claims that are NOT related to the IFPA. We clarify the issues below.

In GEICO v. Elkholy (21-16255), GEICO filed a complaint alleging that Defendants engaged in illegal conduct, allegedly resulting in Defendants unlawfully acquiring millions of dollars in NJ No-Fault PIP benefits. Defendants moved for the Court to dismiss the complaint and argued that the matter must be arbitrated because GEICO's claims fell within the scope of the NJ No-Fault arbitration mandate as well as the arbitration clause in GEICO's decision point review plan. The court did not agree. Dismissing counts not related to IFPA violations for which the insurance carrier seeks relief, the court clearly held that GEICO's claim for damages under the IFPA is required to be judicially resolved in a court of competent jurisdiction, not by an arbitrator.

The matter is proceeding in the District Court of New Jersey.

Similarly, in GEICO v. Stelton Radiology Corp. (20-18532), GEICO alleged that Defendants performed imaging studies that were not medically necessary, allegedly resulting in more than $5.9 million in fraudulent reimbursement. Again, the Court held that Geico's IFPA claims could not be arbitrated in the No-Fault forum, and instead must be addressed in court.

Importantly, in both cases the Court held that GEICO's common law fraud, RICO, and unjust enrichment claims were to be dismissed and subject to the PIP arbitration resolution process. The IFPA claims, however, could not be arbitrated and are to proceed in court.

It is clear that the District Court will not readily dismiss IFPA claims, which is not a new development, but will rather retain jurisdiction of insurance fraud claims given the public policy mandate, and the remedial nature of the statute. In truth, seeking early dismissal of related counts has questionable value when considering allocation of resources in defending IFPA claims on the merits.
For more information, please contact: