Saliva Testing Now Acceptable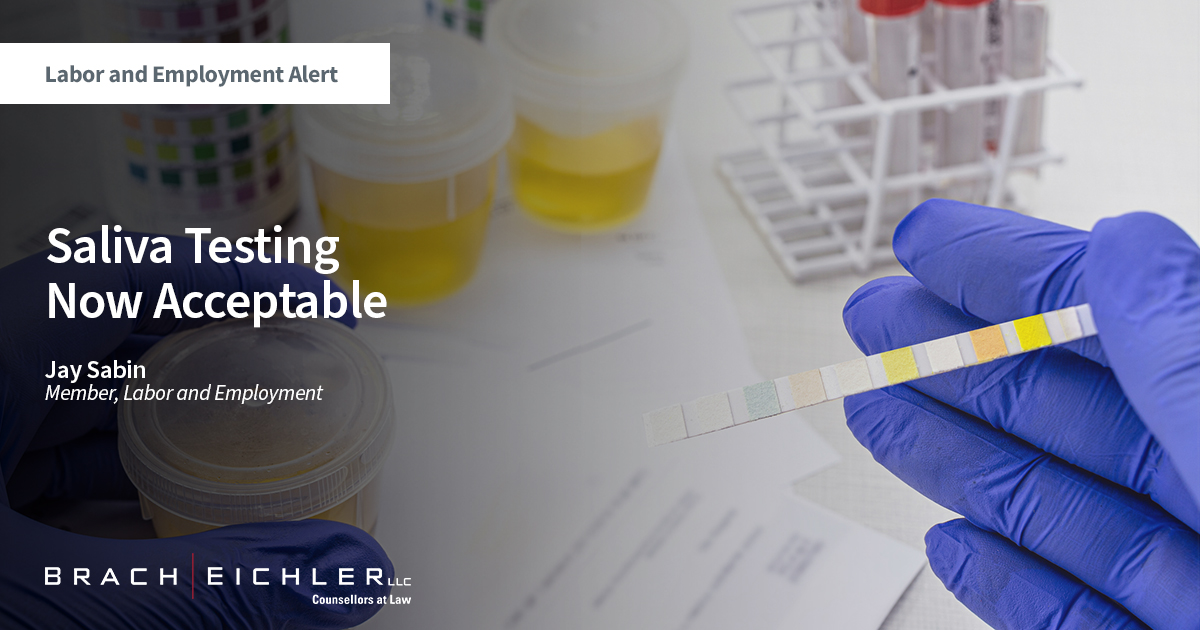 BACK TO INSIGHTS
Alerts
5/4/2023
The U.S. Department of Transportation (DOT) has now approved the use of saliva (i.e., "oral fluids") for mandatory drug testing. As a result, motor carriers will have to become familiar with the attributes of both types of acceptable testing – urine and saliva – and instruct their collection site vendor(s) whether they "want to utilize urine testing, oral fluid testing, or some combination of both." Motor carriers must provide the instructions in advance; deciding on a case-by-case is not permitted and could be evidence of illegal discrimination depending upon the legally protected characteristics of the driver being tested.  If a motor carrier chooses a combination of testing methods, its instructions need to identify the type of testing that would be used for a specific situation (for example, saliva for post-accident and urine for pre-employment). Also, the instructions may specify the "instances that would trigger a different methodology (e.g., an insufficient oral fluid collection should immediately become a urine collection or vice-versa)," though the collection site vendor can make its own independent decision in the absence of a standing instruction from the motor carrier.
Attributes of Both Methodologies
The most salient attributes for a motor carrier to consider are cost, window of detection, and ease of use.
As for cost, a motor carrier should obtain price quotes. While the DOT originally opined that saliva testing would be cheaper by about $10-$20 per test, it has backed off those preliminary comments. The marketplace will be the ultimate arbiter of costs.
Window of detection refers to the period of use by the driver that a positive test result strongly suggests. In the case of cannabis, a positive test result with either methodology does not mean that the driver was impaired when the specimen was provided. It only means that during some prior period the person ingested something that contained THC, the psycho-active component of cannabis, and that the driver has not fully metabolized that THC below the testing levels. The DOT originally published data showing a cannabis window of detection with urine specimens of 3-67 days prior to submission and during the 24 hours before submission for saliva testing; however, the DOT ultimately decided not to offer any guidance other than to "note that oral fluid windows of detection will likely be shorter than for urine." Some motor carriers have expressed concern that the more fleeting window associated with saliva testing would permit drivers to artificially delay submitting saliva, and thereby avoid detection. Existing FMCSA regulation stipulates how soon after an event a carrier must require a driver to proceed to testing. In the case of random testing, for example, the carrier must require the driver to proceed to the collection site "immediately" upon notification of selection or "as soon as possible" if the driver is performing a non-driving safety sensitive function. Other motor carriers may be inclined not to detect cannabis use, particularly in states where discipline in excess of that mandated by FMCSA regulation may violate the state's cannabis use laws.
Ease of use is self-explanatory and it is intuitively correct that collecting saliva is easier than collecting urine. Saliva collection, among other things, eliminates the costs and complications of shy bladder evaluations; makes it easier for drivers who cannot physically or psychologically produce a sufficient urine specimen; opens jobs to otherwise qualified drivers who are unable to produce an adequate urine specimen; and prevents the type of cheating that purportedly occurs with urine testing. Saliva collection may also be more easily conducted, for example, at the site of an accident or when reasonable cause exists, and may be conducted by another motor carrier employee so long as the person is qualified.
DOT Preference
The DOT has "strongly suggest[ed that] employers consider moving to an oral fluid testing methodology" because of certain complications with collecting urine, specifically having to directly observe a driver in certain circumstances and responding to a driver's "shy bladder."
Motor Carrier Decisions
Notwithstanding the DOT's preference, each motor carrier must make its own decision. An informed decision will take into account the factors discussed above and any other business interests related to or that may result from choosing one method or another. A motor carrier should obtain the advice of its testing agent, its safety, human resource and risk management professionals, and legal counsel in making its decision. A motor carrier should also be prepared to explain its decisions to its auto liability insurance underwriter. The DOT's regulation goes into effect June 1, 2023 and carriers may begin requiring saliva testing once the U.S Department of Health and Human Services certifies at least two labs to conduct such testing.
About Brach Eichler LLC
Brach Eichler LLC, is a full-service law firm based in Roseland, NJ. With over 80 attorneys, the firm is focused in the following practice areas: Healthcare Law; Real Estate; Litigation; Trusts and Estates; Corporate Transactions & Financial Services; Personal Injury; Criminal Defense and Government Investigations; Labor and Employment; Environmental and Land Use; Family Law; Patent, Intellectual Property & Information Technology; Real Estate Tax Appeals; Tax; and Cannabis Law. Brach Eichler attorneys have been recognized by clients and peers alike in The Best Lawyers in America©, Chambers USA, and New Jersey Super Lawyers. For more information, visit www.bracheichler.com.
The information provided in this alert does not, and is not intended to, constitute legal advice; instead, all information, content, and linked materials are for general informational purposes only. Links are only for the convenience of the reader and do not represent an endorsement. No reader should act or refrain from acting based on information on this site without first seeking legal advice from counsel in the relevant jurisdiction. Only your attorney can provide assurances that the information contained herein – and your interpretation of it – is applicable or appropriate to your particular situation. Use of, and access to, this website or any of the links or resources contained within the site do not create an attorney-client relationship between the reader and the firm