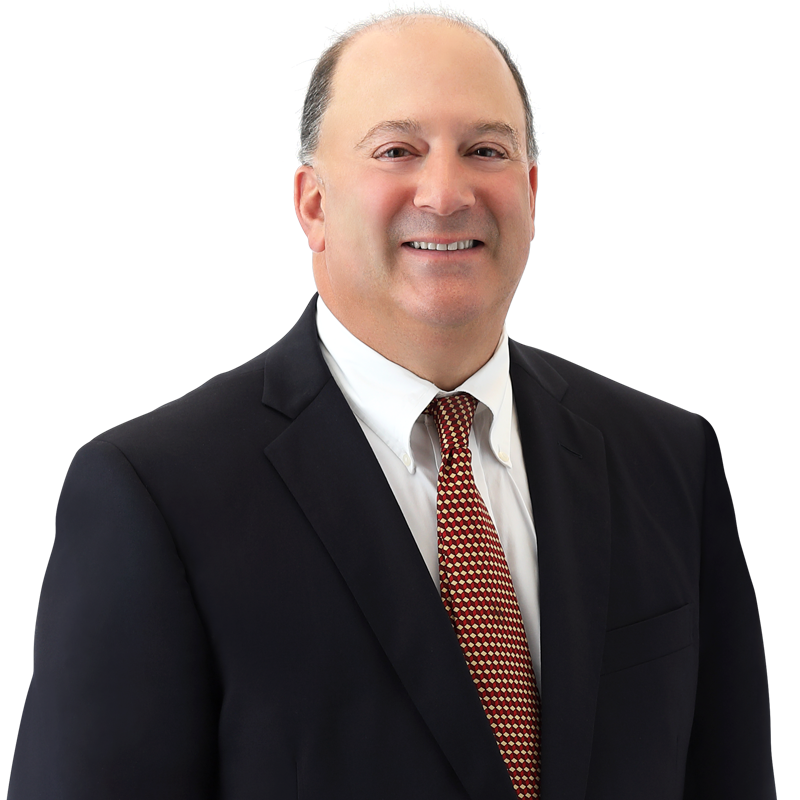 Practice Areas
Bar and Court Admissions
New Jersey
U.S. Court of Appeals, Third Circuit
U.S. District Court, District of New Jersey
Education
American University Washington College of Law, J.D., summa cum laude, Law Review
Emory University, B.A., high honors
Richard B. Robins,
Counsel
Richard Robins represents hospitals, physicians, dentists, and other health care practitioners and civil litigants in state and federal trial and appellate courts, licensure and arbitration proceedings, and transactional matters. Richard also represents clients in criminal matters, including health care and kickback investigations, prosecutions, and parole disputes. He has successfully litigated numerous actions in the New Jersey Supreme Court and other jurisdictions. These matters have included complex breach of contract, whistleblower, employment discrimination, restrictive covenant, denial of medical staff privileges, retaliatory discharge, regulatory compliance, and contested guardianship cases.
In his dealings with clients and adversaries, Richard, a former elite college debater, is known for his tenacity, creativity, and persuasive presentation.
Richard also represents clients in complex business, medical, and dental practice formation matters including new member buy-ins, employment agreements, terminations, contract negotiations and disputes, and in disciplinary proceedings before licensing and regulatory boards.
Richard frequently lectures on topics including legal issues in the dental field, kickback violations, and HIPAA compliance.
Richard is a former Trustee of Oheb Shalom Congregation in South Orange. He has won numerous county, municipal, and club tennis tournaments, and is a former New Jersey State table tennis tournament multiple event champion.
Notable Matters
+
Allstate Ins. Co. v. Lajara, Superior Court, Appellate Division, (3/8/19). Richard represented the Medical Society of New Jersey and the Radiological Society of New Jersey in a suit filed by an insurance company charging fraud and regulatory violations against a radiologist. The appellate court agreed with Richard's position that the Societies were entitled to participate in the briefing as "friends of the court," and that the trial judge had improperly interpreted several provisions in the regulations, and reversed portions of the judge's decision.
New Jersey Manufacturers Insurance Company v. Specialty Surgical Center of North Brunswick (App. Div., Jan. 29, 2019)
Mohandas v. Stone (N.J. Super. Ct. Law Div. 2018). Represented hospitals, medical staffs, and officers in defense of medical staff member's torts contract, conspiracy, and discrimination claims; all claims against all clients dismissed on summary judgment
Saminski v. Neville, No. A-5528-15T1, 2017 WL 5617594 (App. Div., Nov. 21, 2017) U.S. ex rel.
Patel v. Robert Wood Johnson University Hospital (N.J. Super. Ct. App. Div. 2016).  Represented hospital in defense of medical staff member's tort, contract, and discrimination claims; appellate court affirmed the trial court's dismissal of all claims on summary judgment and the New Jersey Supreme Court denied review.
Tahlor v. AHS Hospital Corp., 2013 WL 5913627 (D.N.J. 2013)
Jafari v. Clara Maass Medical Center (N.J. Super. Ct. Law Div. 2013).  Represented hospital in defense of medical staff member's claims; all claims were dismissed without prejudice
Mazzoccoli v. Merit Mountainside LLC, December 20, 2012, Linares, J.)
United States v. Campbell, 2011 WL 43013 (D.N.J. 2011)
In re Adoption of N.J.A.C. 11:3-29 by the State of New Jersey, Department of Banking and Insurance, 410 N.J. Super. 6 (App. Div. 2009), 200 N.J. 506 (2009)
U.S. ex rel. Hefner v. Hackensack University Medical Center, 495 F.3d 103 (3rd Cir. 2007)
Saint Peter's University Hospital v. Lacy, 185 N.J. 1 (2005)
New Jersey State Ass'n of Nurse Anesthetists v. New Jersey State Board of Medical Examiners, 183 N.J. 605 (2005), affirming 372 N.J. Super. 554 (App. Div. 2004)
Prudential Prop. & Cas. Ins. Co. of New Jersey v. Greenberg, No. MRS-L-2802-00, 2002 WL 32829046 (N.J. Super. Ct. Law Div. Sept. 10, 2002)
Herbert v. Newton Memorial Hospital, 933 F. Supp. 1222 (D.N.J. 1996)
Hunterdon County PBA Local 188 v. Township of Franklin, 286 N.J. Super. 389 (App. Div. 1996)
Smith v. Township of Andover, 283 N.J. Super. 452 (App. Div. 1995) 143 N.J. 320 (1995)
Rosa v. Resolution Trust Corp., 752 F. Supp. 1231 (D.N.J. 1990), 938 F. 2d 383 (3rd Cir. 1991), 112 S. Ct. 582 (1991)
Levin v. Robinson, Wayne & La Sala, 246 N.J. Super. 167 (Law Div. 1990)
In addition to cases resulting in written judicial opinions, Richard successfully represented a cardiologist against charges by the U.S. Attorney's Office that the physician had violated the federal Stark Law and Anti-Kickback Act. The three-day jury trial was held in federal district court, Newark, from March 22-24, 2011. The jury unanimously found in the physician's favor on all claims. Richard was quoted extensively on the case in an article in the Star-Ledger published on March 26, 2011, entitled, "Orange cardiologist is cleared of wrongdoing in UMDNJ illegal kickback scheme." He was also quoted extensively in the Report on Medicare Compliance, April 11, 2011.
Professional Activities
+
Member, New Jersey State Bar Association, Health and Hospital Law Section
Long-Time Chair, Annual Essex County Bar Foundation Tennis Outing
Insights
+
Blog
+