Brach Eichler's attorneys are dedicated to delivering outstanding lawyering and unbeatable client service.
|

Since its founding in 1967, Brach Eichler has built trusted, personal relationships with its clients, rendering advice that is business-savvy and creative, yet practical.

In the early 1970s, Eichler paved the way for the establishment of many New Jersey healthcare "firsts" by shepherding the licensing of the first non-hospital-owned, free-standing dialysis facility,  the first MRI, the first free-standing ambulatory surgical center, and the first lithotripter. He was also the first attorney to represent a medical staff in New Jersey. The firm, which had relocated to East Orange and then Roseland, NJ, later merged with WolfBlock Schorr & Solis-Cohen LLP in 2003.  In April 2009 after announcing its plans to disband, the Roseland attorneys of WolfBlock formed Brach Eichler.

Focusing on providing high-quality service is embedded in our culture. Brach Eichler's attorneys reside in Roseland, New Jersey; New York; and West Palm Beach, Florida.
|
We share a common culture with core values underscored by practicing law passionately with an eye toward the end result. 
As our firm continues to grow, our core values remain consistent: integrity, respect, and excellence.  As the firm continues to grow, it remains sharply attuned to its Core Values and define our way of doing business – from our ongoing relationships with clients and partners to our daily interactions with team members across the organization. We are driven to continually develop and enhance our knowledge and skills in order to exceed expectations. We demonstrate good judgment in our business dealings, and respect for the people around us, regardless of their role or situation.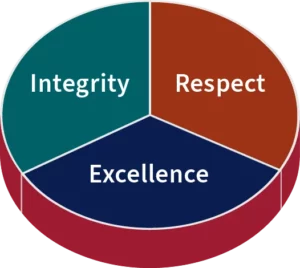 Brach Eichler Executive Committee
Effective Expertise & Experience
|

Our attorneys are trailblazers. It takes confidence and passion to be a creative problem solver, strategic and creative.

 

Brach Eichler's entrepreneurial attorneys are committed to delivering the highest quality advice and support efficiently and effectively. Clients rely upon Brach Eichler's gifted and pragmatic counselors who are renowned for their reputation of excellence and ability to position our clients for successful outcomes by anticipating their needs and outperforming their expectations. We put our clients at the center of our thinking. This goes beyond the legal deliverables we provide, we put ourselves in our client's shoes and look at the experience of going through a legal matter from their point of view.
|

Our Clients depend on us to help them with complex business issues and we are committed to providing superior business solutions.

Read a sample of the numerous testimonials we receive:
❝

Brach Eichler brings a unique blend of litigation firepower and business practicality. They are more than capable of achieving the desired result in various ways and the firm possesses the ability to pivot nimbly where case developments call for an audible.

❞

~Shaun B., Panasonic Corporation of America
❝

For 20 years, my firm and I have been extremely satisfied with Brach-Eichler. They team always understand the underlying business issue (which is critical for us) and apply their legal expertise accordingly. When we need Brach-Eichler to negotiate something on our behalf they are, every time, completely professional. When the matter is complex, Brach-Eichler is patient with the counterparty which enables us to get to a successful outcome while preserving our business relationship with the counterparty. Brach-Eichler is a very smart group of lawyers and should be on everyone's short list.

❞

~Kenneth D., HSC Acquisition
❝

The team of bank lawyers at Brach Eichler are top notch; always willing to go the "extra" mile in order to get deals done!

❞

~William G., Peapack-Gladstone Bank
❝

They are the only firm I would use for the smallest matter to ones that require the most complicated attention. I would never dream of another law firm.

❞

~John P., JP Management
❝

Brach Eichler is... in healthcare law in the tristate region. They have an extensive network to help facilitate all aspects of healthcare which allows them to accomplish goals in a highly effective and cost efficient manner.

❞

~Mark R., The Orthopedic Center, P.A.
❝

The attorneys and entire Health Care Law Division at Brach Eichler are outstanding. I have 25 years of experience in working with this team and have the highest regard for their professionalism and dedication.

❞

~William R.,

Anesthesia Consultants of New Jersey
These comments were collected as part of the U.S. News – Best Lawyers® "Best Law Firms" research process. Results may vary depending on your particular facts and legal circumstances.
Integral Incessant Innovation
|
Our results are proof that our evolving focus on how we approach our clients' business issues are a guarantee of cutting edge legal services.

 
Our integrated client solutions provide seamless advice, underpinned by deep practice and industry expertise, as well as first-rate local market knowledge. It is our obligation to provide creative solutions to resolve our clients issues. Through abstract thought, analysis, and creative consideration we come up with new solutions to resolve our client's issues. How we approach the discussions, explain our client's point, and think outside the box, it's not just a strict legal exercise but rather thinking differently with an open mind, focusing on what's in front of us and what's possible.
* Brach Eichler and Brach Eichler attorneys are honored to have been recognized with various awards. For a description of the standard or methodology on which each award or honor is based, click here to learn more.
Our attorneys are dedicated to delivering outstanding lawyering and unbeatable client service. This is the hallmark of our culture.
Stay current with our latest updates, communications and thoughts!