30 Attorneys from Brach Eichler Recognized for Inclusion in the "2023 New Jersey Super Lawyers" list by Super Lawyers®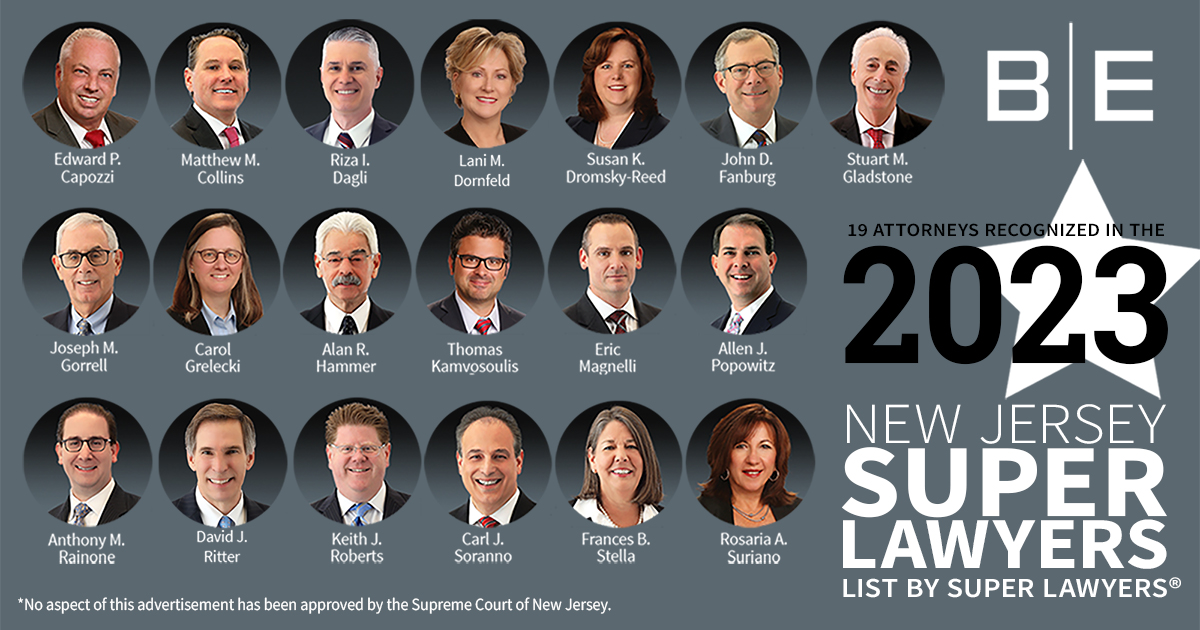 BACK TO INSIGHTS
Firm Announcements & Wins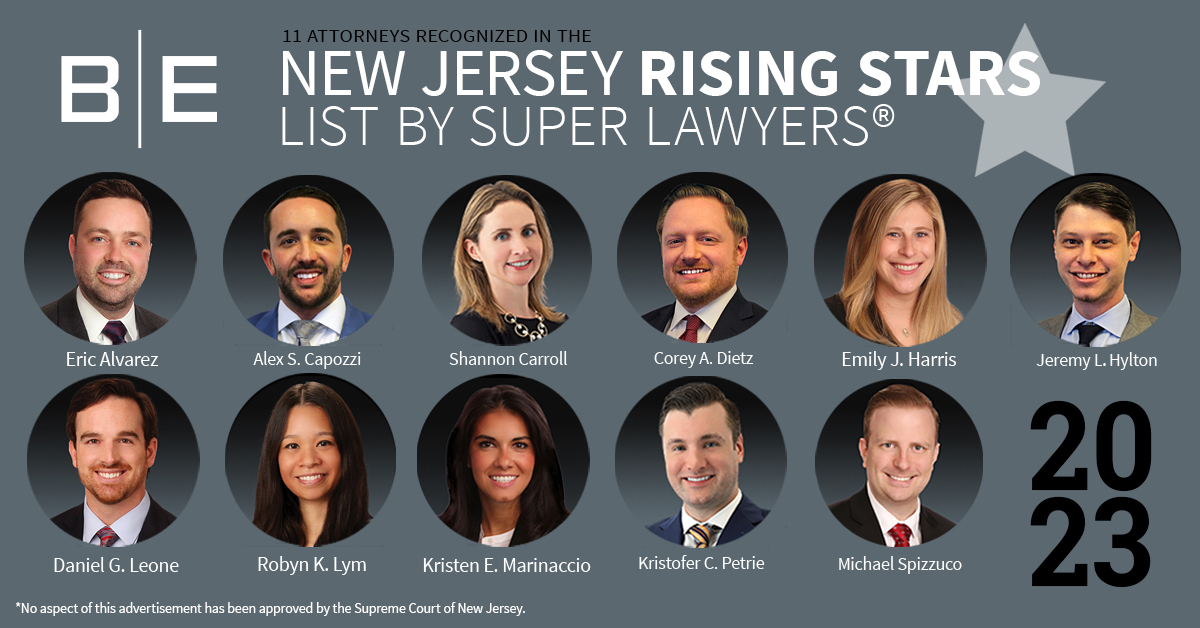 5/11/2023
Brach Eichler LLC is pleased to announce the selection of 19 of the firm's attorneys for inclusion in the "2023 New Jersey Super Lawyers" list by Super Lawyers®, following the publication's annual nomination, research and blue-ribbon review process. In addition, 11 Brach Eichler attorneys were named to the 2023 New Jersey Rising Stars list, bringing the total number of recognized lawyers at the Firm to 30.
Congratulations to Edward P. Capozzi, Matthew M. Collins, Riza I. Dagli, Lani M. Dornfeld, Susan Dromsky-Reed, John D. Fanburg, Stuart M. Gladstone, Joseph M. Gorrell, Carol Grelecki, Alan R. Hammer, Thomas Kamvosoulis, Eric Magnelli, Allen J. Popowitz, Anthony M. Rainone, David J. Ritter, Keith J. Roberts, Carl J. Soranno, Frances B. Stella, and Rose A. Suriano.
The 10 attorneys from the firm included in the "2023 New Jersey Rising Stars" list by Super Lawyers® are: Eric Alvarez, Alex S. Capozzi, Shannon Carroll, Corey A. Dietz, Emily J. Harris, Jeremy L. Hylton, Daniel G. Leone, Robyn K. Lym, Kristen E. Marinaccio, Kristofer C. Petrie, and Michael A. Spizzuco, Jr..
The complete list of the firm's attorneys recognized in the 2023 edition of New Jersey Super Lawyers follows, listed by primary area of practice and in alphabetical order:
Criminal Defense: White Collar
Riza I. Dagli
Employment and Labor
Matthew M. Collins
Eric Magnelli
Anthony M. Rainone
Environmental and Land Use
Frances B. Stella
Family Law
Kristen E. Marinaccio
Carl J. Soranno 
Healthcare
Shannon Carroll
Lani M. Dornfeld
John D. Fanburg
Joseph M. Gorrell
Carol Grelecki
Emily J. Harris
Litigation
Eric Alvarez
Thomas Kamvosoulis 
Robyn K. Lym
Keith J. Roberts
Michael A. Spizzuco, Jr.
Rose A. Suriano
Personal Injury General: Plaintiff
Alex Capozzi 
Edward P. Capozzi
Corey A. Dietz
Jeremy L. Hylton
Daniel G. Leone
Kristofer Petrie
Real Estate
Alan R. Hammer
Allen J. Popowitz
Tax
David J. Ritter
Trust & Estates
Susan Dromsky-Reed
Stuart M. Gladstone
Related Attorney: Riza I. Dagli, Matthew M. Collins, Eric Magnelli, Anthony M. Rainone, Frances B. Stella, Kristen E. Marinaccio, Carl J. Soranno, Shannon Carroll, Lani M. Dornfeld, John D. Fanburg, Joseph M. Gorrell, Carol Grelecki, Emily J. Harris, Eric Alvarez, Thomas Kamvosoulis, Robyn K. Lym, Keith J. Roberts, Michael A. Spizzuco, Jr., Rose Suriano, Alex S. Capozzi, Edward P. Capozzi, Corey A. Dietz, Jeremy L. Hylton, Daniel G. Leone, Kristofer C. Petrie, Alan R. Hammer, Allen J. Popowitz, David J. Ritter, Susan K. Dromsky-Reed, Stuart M. Gladstone