Be Warned: New Jersey's Expanded WARN Law About to Take Effect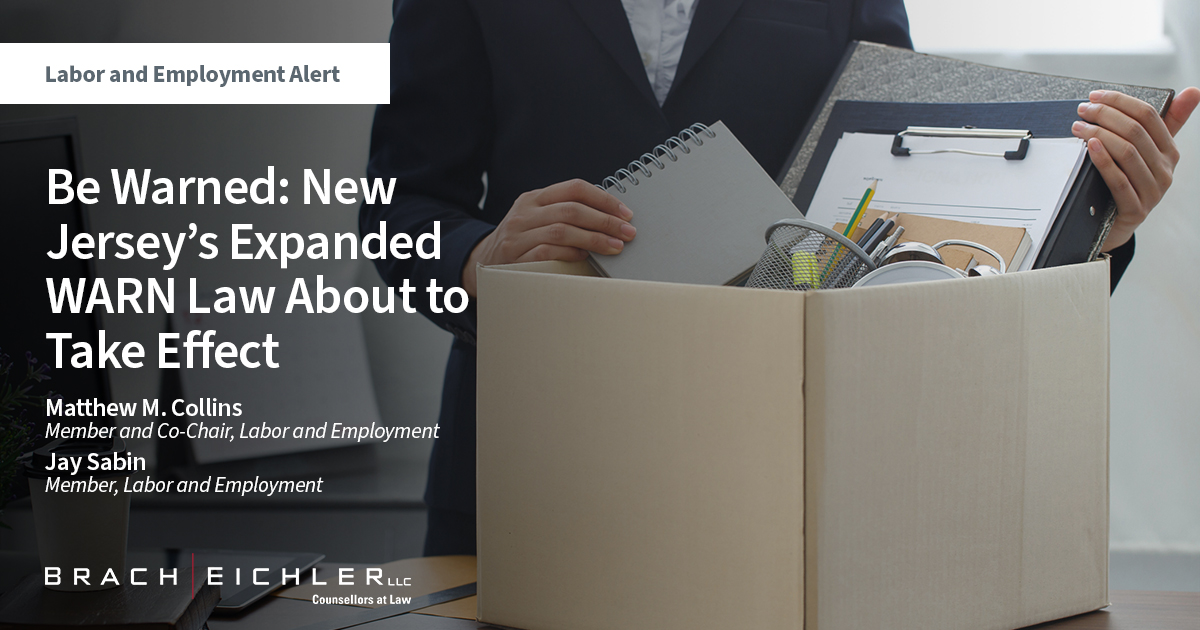 BACK TO INSIGHTS
Alerts
February 13, 2023
New Jersey employers and anyone contemplating acquiring a New Jersey business must be aware that New Jersey's greatly expanded mass layoff / plant closing / plant relocation law will go into effect on April 10, 2023. The Firm published its summary of this law right before COVID, but the law's effective date had been delayed as part of the State's pandemic emergency declaration. That delay has now been lifted. Therefore, as a result of the newly expanded law, businesses need to consider at least 90 days before any type of corporate action that could result in 50 or more employment losses, whether the expanded law applies, whether notice is required, and whether the employer or anyone else will be liable for severance. These considerations are much broader than what was required under New Jersey's prior mass layoff / plant closing law and what is still required under the federal WARN law.
The following are typical questions that a business might need to answer about its obligations under the new law:
Are employment losses by part-time or temporary employees or independent contractors included?
Should employees who work remotely be counted?
What if the business purchaser offers employment to the seller's employees?
Are layoffs by two different businesses aggregated?
What if all of the employment losses do not occur at the same time?
These questions are of course in addition to the usual inquiries a prudent employer will undertake before a major corporate action.
Severance pay is another new feature of the law. Impacted individuals are to receive one week of pay for each full year of employment, plus another four weeks of pay if 90-day advance notice is not provided by an employer with at least 100 employees. If the business does not pay the severance, related businesses, investors, and certain individuals may be liable.
To help you assess your compliance and potential liability under this new law, or with any other labor and employment issue, please contact:
Matthew Collins, Member and Co-Chair, Labor and Employment Practice, at mcollins@bracheichler.com or 973-403-3151
Jay Sabin, Member, Labor and Employment Practice, at jsabin@bracheichler.com or 917-596-8987
---
About Brach Eichler LLC
Brach Eichler LLC, is a full-service law firm based in Roseland, NJ. With over 80 attorneys, the firm is focused in the following practice areas: Healthcare Law; Real Estate; Litigation; Trusts and Estates; Business Transactions & Financial Services; Personal Injury; Criminal Defense and Government Investigations; Labor and Employment; Environmental and Land Use; Family Law; Patent, Intellectual Property & Information Technology; Real Estate Tax Appeals; Tax; and Cannabis Law. Brach Eichler attorneys have been recognized by clients and peers alike in The Best Lawyers in America©, Chambers USA, and New Jersey Super Lawyers. For more information, visit www.bracheichler.com.
This alert is intended for informational and discussion purposes only. The information contained in this alert is not intended to provide, and does not constitute legal advice or establish the attorney/client relationship by way of any information contained herein. Brach Eichler LLC does not guarantee the accuracy, completeness, usefulness or adequacy of any information contained herein. Readers are advised to consult with a qualified attorney concerning the specifics of a particular situation.