Brach Eichler attorneys Riza Dagli and Autumn McCourt win $2.4M trial verdict in commercial dispute.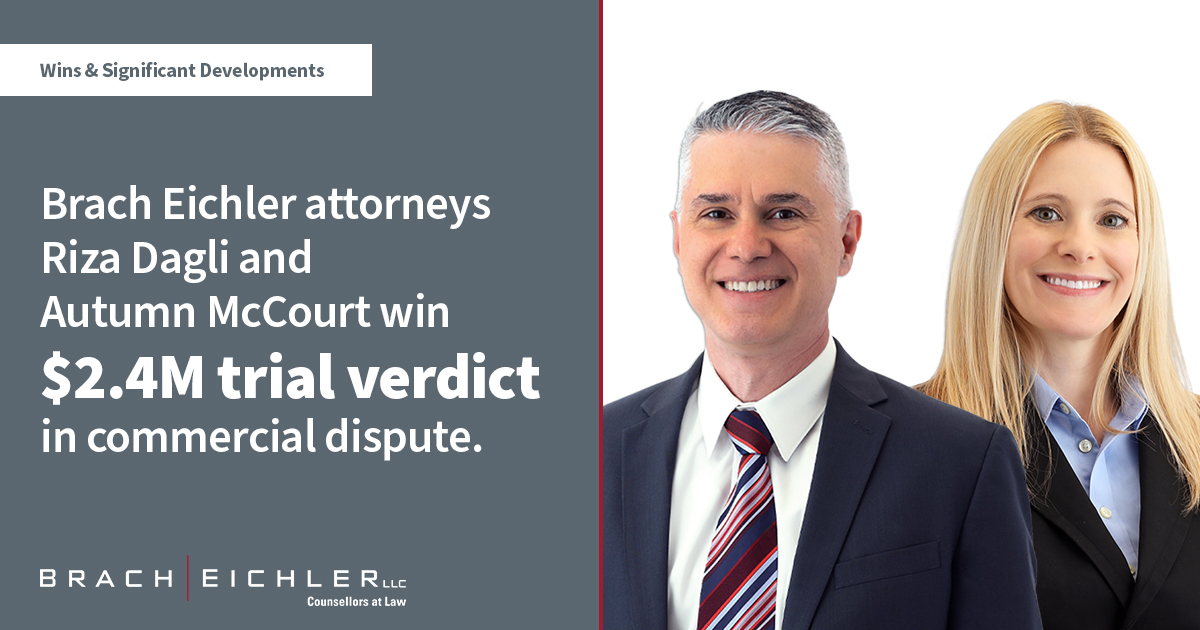 BACK TO INSIGHTS
Firm Announcements & Wins
In the case USI Inc. v Festo Didactic Inc., Brach Eichler filed suit in federal court in the District of New Jersey on behalf of plaintiff USI Inc. against educational equipment manufacturer Festo Didactic Inc. In 2012, USI Inc. acted as an intermediary between Festo Didactic's predecessor Lab-Volt Inc. and the Government of Oman in a construction project for the Military Technological College in Muscat, Oman, funded by the United States Government. In 2014, a contract valued at over $11M was signed between Festo Didactic and the US Government. The construction of the college has long been completed, but Festo Didactic, Inc., failed to compensate USI, Inc. At trial, Dagli and McCourt used multiple witnesses, both in the US and internationally, civilian and military, and almost 300 trial exhibits, to prove that USI was entitled to compensation under both a breach of contract claim and an unjust enrichment claim. Judge Michael Shipp found that plaintiff proved all counts, and held that USI Inc. was entitled to 25% of all equipment sale, and also pre-judgment interest going back to 2015, when Festo Didactic was paid by the US Government. Riza Dagli, a former Assistant Attorney General for the State of New Jersey, and Autumn McCourt are in the firm's Litigation Group and focus on complex civil and criminal litigation. Riza Dagli is also Chair of the firm's Government Investigation and Criminal Defense Practice Group.