Brach Eichler Celebrates Being Named to NJBIZ Best Places to Work 2023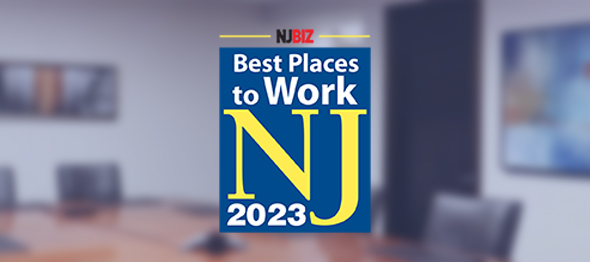 BACK TO INSIGHTS
Awards
July 17, 2023
Brach Eichler's commitment to culture and our values is the recipe for success
Roseland, NJ(July 17, 2023) – Brach Eichler LLC, is pleased to announce that it has been selected as one of the "Best Places to Work" in the medium-sized (50 – 249 employees) company category of NJBIZ's 2023 Best Places to Work in New Jersey for the second year in a row. The Best Places to Work program identifies and honors the top 125 companies in New Jersey that benefit the state's economy, workforce, and fellow businesses. The firm will be honored during an awards dinner and ceremony on September 28 at an in-person event held at The Event Center at iPlay America in Freehold, New Jersey.
"Offering top talent – lawyers and staff alike – the ability to chart their own course professionally is an essential part of our strategy. It's what enables us to field consistent, outstanding teams for our clients, and creates the kind of culture I think we all value on a very personal level," said Managing Member John D. Fanburg. "We are grateful to receive this acknowledgment from NJBIZ as it reinforces that Brach Eichler is the law firm of choice for our staff and attorneys for so many different reasons."
It is our core belief that all its employees should be treated with respect and professionalism no matter what their role is within the firm. We take care of each other, enjoy building relationships with one another, and work collaboratively to make Brach Eichler a great place. We are committed to fostering a diverse and inclusive work environment. Along with a full range of health, disability, and life benefits, there is a 401K plan for all employees, a mentoring program, monthly breakfasts in recognition of employee birthdays, summer and holiday parties, firm years-of-service bonus, DEI trainings and events, firm sports programs, summer-Fridays and multiple opportunities to participate in charitable organizations.
To qualify, Brach Eichler and its employees completed a survey detailing the firm's benefits, policies, and level of satisfaction. The Best Companies Group (BCG) conducts the surveys, analyzes the responses from employees and alignment across the 8 core focus areas on the employee survey: Leadership and Planning, Corporate Culture and Communications, Role Satisfaction, Work Environment, Relationship with Supervisor, Training, Development and Resources, Pay and Benefits, and Overall Engagement.
*No aspect of this advertisement has been approved by the Supreme Court of New Jersey. For the awards and honors methodology, visit https://bit.ly/3o09WOD