Defamation, Disparagement, and Lawsuits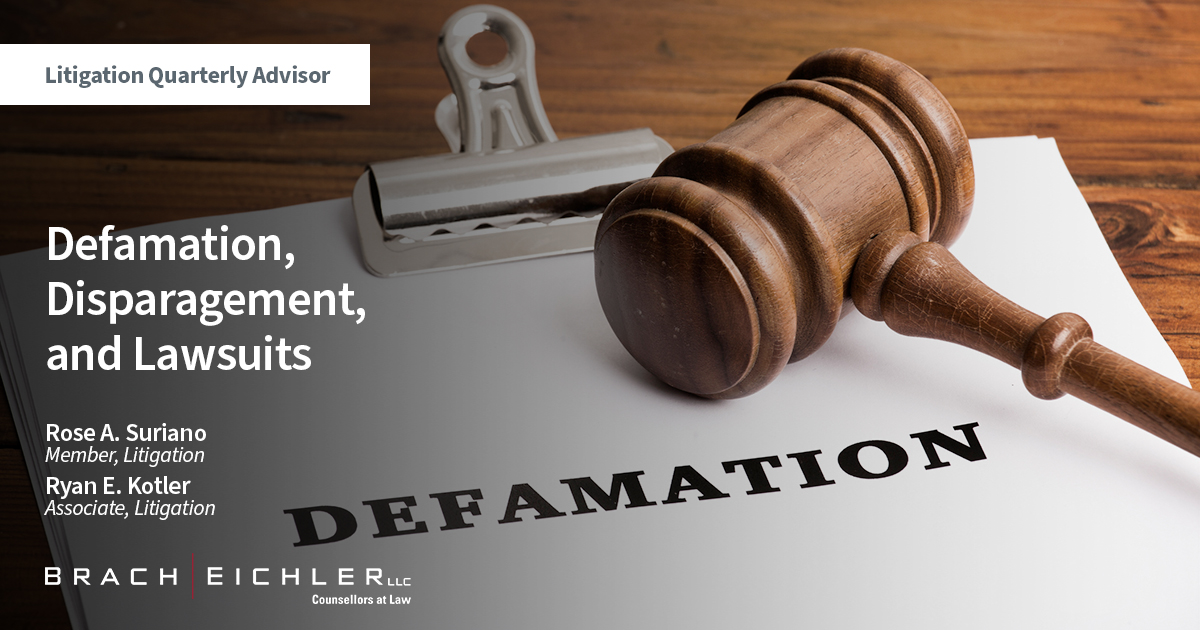 BACK TO INSIGHTS
Articles
At one point or another, many of us find ourselves on the receiving end of unfavorable words or criticism, accurate or not. In recent and well-covered defamation suits against The New York Times, Sarah Palin claimed that false information was communicated about her in a Times editorial, unfairly damaging her reputation. Another high-profile trial involving actors Johnny Depp, 58, and his ex-wife Amber Heard, 36, revolves around a defamation lawsuit Depp filed against Heard in 2019 about an op-ed she wrote regarding domestic abuse in 2018. Depp says the article irreparably damaged his career, causing him to lose millions of dollars in endorsements and royalties.
The basic components of a defamation claim are (1) a communication; (2) that is "false and defamatory" concerning the plaintiff; (3) made to a third party; (4) without authorization or privilege; and (5) that causes harm. Ali v. Woodbridge Twp. Sch. Dist., 957 F.3d 174, 182-83 (3d Cir. 2020) (quoting G.D. v. Kenny, 205 N.J. 275, 292-93 (2011)). A "defamatory statement"—recently defined in New Jersey as one which is "false and injurious to the reputation of another or exposes another person to hatred, contempt or ridicule or subjects another person to a loss of the goodwill and confidence in which he or she is held by others"—"may consist of libel (i.e., a written defamatory statement) or slander (i.e., an oral defamatory statement)." Read v. Profeta, 397 F. Supp. 3d 597, 650 (D.N.J. 2019) (quoting W.J.A. v. D.A., 210 N.J. 229, 238 (2012)).
The Palin case focused on the issue of boundaries and what is needed to for a court to protect an individual's reputation. However, the judge and jury determined that Palin failed to prove that the author of the editorial either a) knew his statements were false, or b) that he published the statements with reckless disregard for their truth or falsity, and this failure proved fatal to her defamation claim.
Depp claims the false and defamatory claims in the article caused damage to his reputation and career.
Depp's trial, which is ongoing seeks damages over $50 million against Heard claiming her op-ed in the Washington Post resulted in Disney dropping Depp from his role in Disney's Pirates of the Caribbean franchise just days after the article was published. Depp claims the false and defamatory claims in the article caused damage to his reputation and career. Defamation cases are not easy to prove. That is even more the case when the reputation of a corporation is at stake. How is a company's reputation protected? Do corporations have the same protections as individuals? When and how should a corporation pursue a defamation case? To allege defamation, a corporation and its principals must show false statements were made to third parties. This is called "publication" even though it does not involve publishing the statement in a newspaper or public forum. A corporation is defamed if the material is published about that corporation that would impact it negatively. Although a company or corporation is not considered to have a "reputation" in the same sense as that of an individual, statements that would impact the public's view of a company's financial position or managerial integrity are generally considered defamatory to a company's business reputation. A company may sue for defamation if statements tend to deter others from doing business with it.
A company must meet the same requirements as an individual to bring a defamation claim. A company may sue for defamation if it can show that the published material has caused the company, or is likely to cause the company, financial loss. If the required elements exist, a corporate plaintiff may recover presumed damages. This means that harm is presumed, and a fact finder may assess damages in the amount deemed appropriate.
If your business has fallen victim to defamatory statements, you should consult with counsel to investigate the matters.