Employee Confidentiality and Non-Disparagement Obligations – Illegal? Maybe So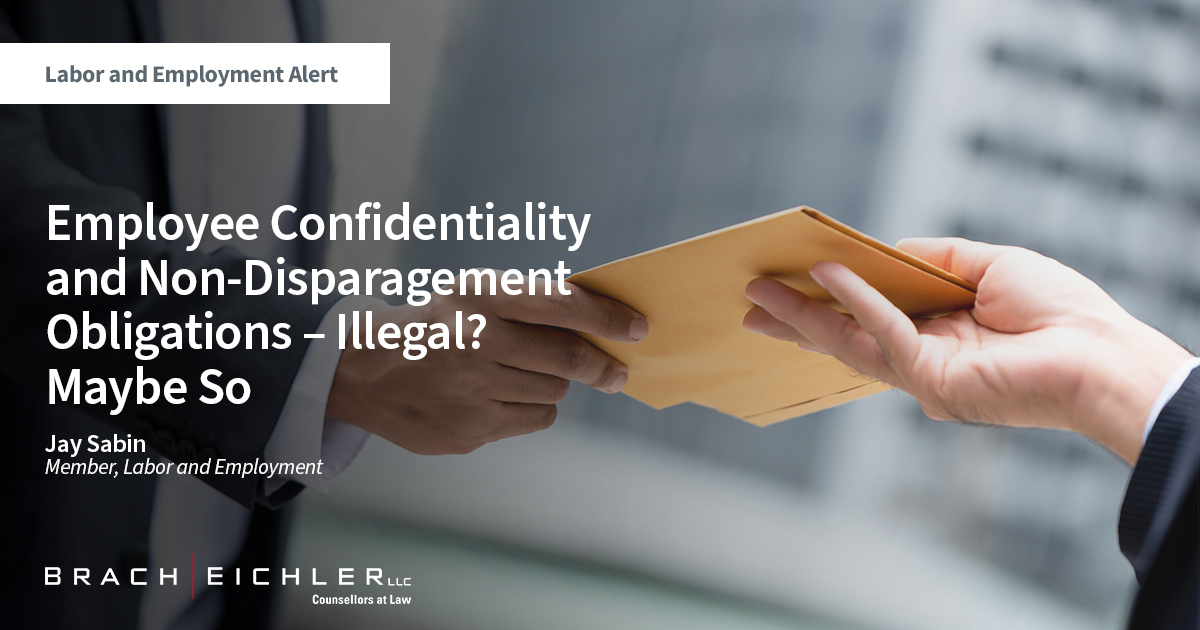 BACK TO INSIGHTS
Alerts
3/20/2023
A recently issued decision by the National Labor Relations Board (NLRB) calls into question the legality of confidentiality and non-disparagement provisions that employers typically include in separation agreements. The decision impacts non-governmental employers in almost all industries – other than rail, air, agriculture, and some religious institutions and Native American tribes – and applies to all employees (union and non-union) who are not supervisors, senior managers or confidential employees.
The NLRB concluded that it was illegal for an employer to offer an employee a separation agreement that, if signed, would have prohibited the employee from speaking negatively about the employment practices of the employer or disclosing information about those practices to co-workers, union officials, and the government. The NLRB reasoned that the ability to discuss, share information, and complain about employment practices were important statutory rights that could not be contracted away by an employee.
The decision indicated that an employer might be able to design non-disparagement and confidentiality provisions that safeguarded employee rights but still protected, to some extent, the legitimate interests of businesses.
Before offering an employee a separation agreement with confidentiality and non-disparagement provisions, an employer would be well served to obtain legal advice about whether the provisions are illegal, whether they can be reformulated, and the potential consequences for including illegal provisions. A prudent employer should also carefully review workplace policies and agreements that prohibit employees from discussing and sharing information about employment practices.
To help you assess the impact of this new NLRB decision, or with any other labor and employment issue, please contact:
Jay Sabin, Member, Labor and Employment Practice, at jsabin@bracheichler.com or 917-596-8987