New FMLA Guidance for Mental Health Related Leave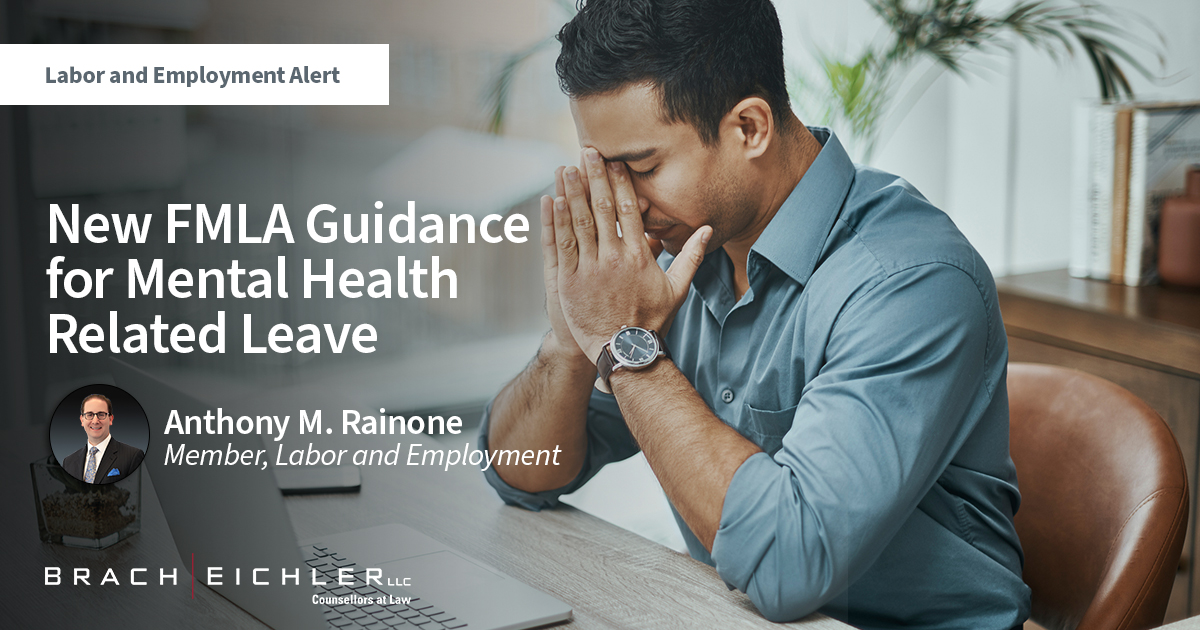 BACK TO INSIGHTS
Alerts
Recently, the U.S. Department of Labor ("DOL") updated its guidance under the Federal Family Medical Leave Act ("FMLA") relating to employee leave for "mental health conditions."  The full updated guidance can be viewed here.
A mental health condition that qualifies for job-protection leave under the FMLA must either: (1) require inpatient care; or (2) be continuing treatment by a health care provider.  Inpatient care includes an overnight stay at a hospital or other medical facility, such as a treatment center or addiction or eating disorders.  Continuing treatment by a healthcare provider includes conditions that incapacitate an individual for more than three consecutive days and requires ongoing medical treatment.  Ongoing medical treatment consists of multiple appointments with a health care provider (including a psychiatrist, clinical psychologist, or clinical social worker).  Continuing treatment by a healthcare provider may also consist of chronic conditions such as anxiety, depression, or dissociative disorders that cause occasional periods when an individual is incapacitated and requires treatment by a healthcare provider at least twice a year.
Employers should handle mental health condition leave requests, in the same manner they handle physical health conditions.  The staff handling FMLA leave requests should be trained specifically on the nuances of mental condition leave and its interplay with disability leave requests under the Americans With Disabilities Act ("ADA") and comparable state law, like the Law Against Discrimination ("LAD").  This new guidance from the DOL is a good start for the training of the staff handling leave requests.