Now is the Time to Consider a Property Tax Appeal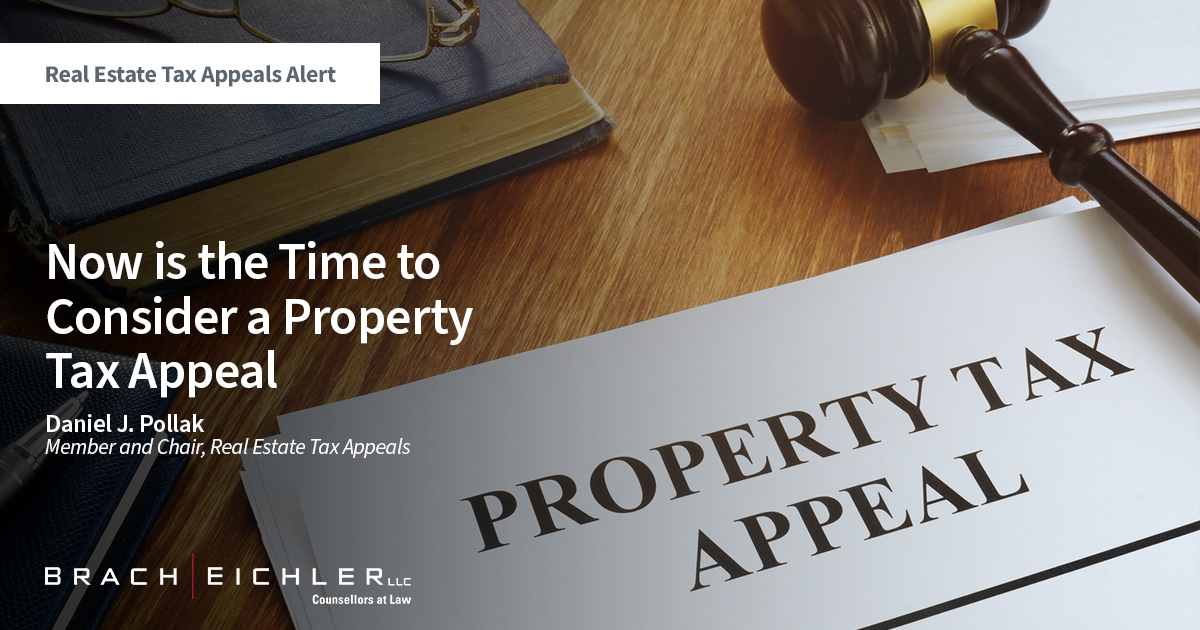 BACK TO INSIGHTS
Alerts
3/20/2023
If a town where you pay real estate taxes is undergoing a revaluation or reassessment, it is particularly important to review whether or not you should file a real estate tax appeal this year. Various categories of real estate have been hit especially hard by economic conditions including hospitality, retail, and commercial office buildings. If you are experiencing lower rent, vacancy or higher operating expenses for these types of properties, Brach Eichler may be able to help you obtain a reduction in your 2023 property taxes.
Even if your property has not been adversely affected by recent economic conditions, you should nevertheless carefully review your assessment to determine if an appeal is appropriate this year. The following factors should be considered:
Do you have reason to believe your property has been adversely effected by economic conditions or that your taxes are too high or unfairly assessed?
Do you own or lease property in a municipality currently undergoing a reassessment or revaluation?
Brach Eichler attorneys thoroughly review each case before filing an appeal so that we only file appeals that we preliminarily determine will result in a reduction of taxes. Many of our cases result in a substantial reduction in tax either through settlement or trial. We have over 50 years of experience prosecuting tax appeals.
If we can assist in reducing your property tax liability, especially in light of the economic hardships, please give us a call. Our team has significant experience prosecuting and defending appeals in New Jersey and Pennsylvania on behalf of all types of property owners.
The filing deadline for 2023 tax appeals is April 3, 2023 (if a property is located in a revalued or reassessed district, the filing deadline is May 1, 2023). Click here to view a tentative list of municipalities currently scheduled for revaluations/reassessments in 2023. If you would like an immediate, no-cost review of your tax assessment or if you receive a complaint from a municipality seeking to increase your tax assessment, please contact Daniel Pollak at 973-403-3119 or dpollak@bracheichler.com as soon as possible so that we can assist you.
About Brach Eichler LLC
Brach Eichler LLC, is a full-service law firm based in Roseland, NJ. With over 80 attorneys, the firm is focused in the following practice areas: Healthcare Law; Real Estate; Litigation; Trusts and Estates; Corporate Transactions & Financial Services; Personal Injury; Criminal Defense and Government Investigations; Labor and Employment; Environmental and Land Use; Family Law; Patent, Intellectual Property & Information Technology; Real Estate Tax Appeals; Tax; and Cannabis Law. Brach Eichler attorneys have been recognized by clients and peers alike in The Best Lawyers in America©, Chambers USA, and New Jersey Super Lawyers. For more information, visit www.bracheichler.com.
This alert is intended for informational and discussion purposes only. The information contained in this alert is not intended to provide, and does not constitute legal advice or establish the attorney/client relationship by way of any information contained herein. Brach Eichler LLC does not guarantee the accuracy, completeness, usefulness or adequacy of any information contained herein. Readers are advised to consult with a qualified attorney concerning the specifics of a particular situation.