DOJ Charges COVID Fraudsters After Raking $150 Million Through Elaborate Schemes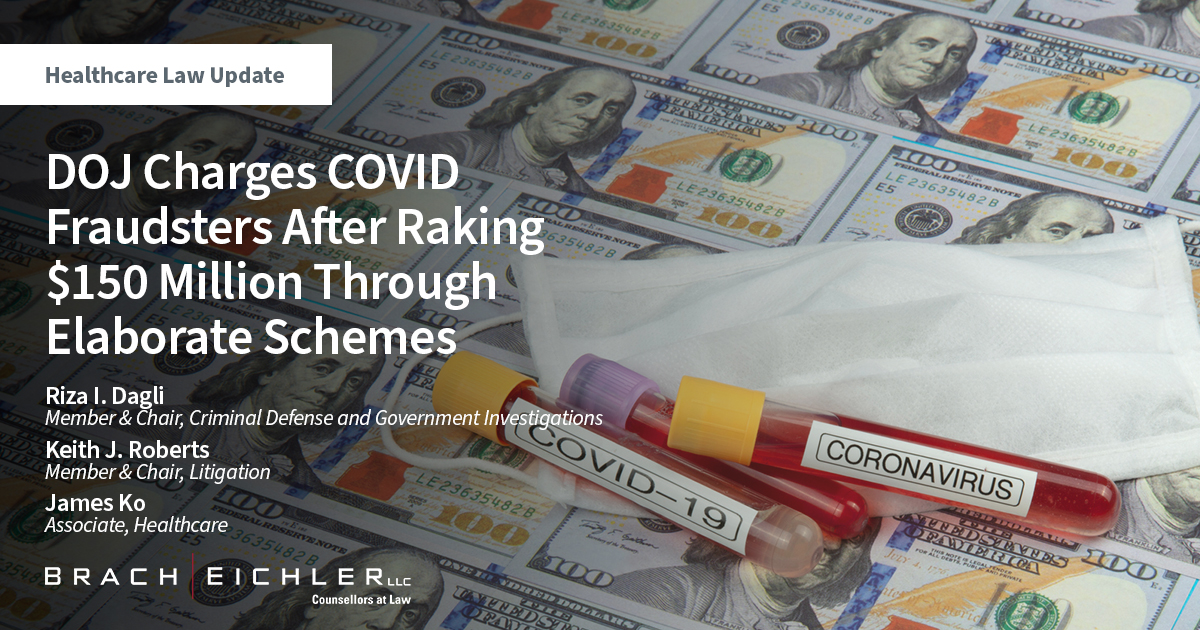 BACK TO INSIGHTS
Articles
On April 20, 2022, the U.S. Department of Justice (DOJ) announced that 21 defendants in nine different districts were charged for their alleged participation in COVID-19 related false billings to federal programs and theft from federally-funded pandemic assistance programs resulting in losses exceeding $149 Million. Over $8 million in cash and other fraud proceeds were also seized as part of these actions. The defendants included owners and executives of medical businesses, physicians, marketers, and manufacturers.
The announcement alleged several different COVID-19 health care fraud schemes, including (i) a money laundering scheme that involved fraudulently billing of over $214 million for laboratory tests, including more than $125 million for COVID-19 and respiratory pathogen tests; (ii) obtaining confidential information and samples
from patients seeking COVID-19 testing at drive-thru testing sites; and using that information to submit false and fraudulent claims for unrelated, medically unnecessary tests or in-office visits that did not occur; (iii) billing for sham telemedicine encounters that did not occur; (iv) misappropriating the Provider Relief Fund (PRF), which was intended to offer financial assistance to medical providers providing needed medical care to Americans suffering from COVID-19; and (v) falsifying COVID-19 vaccination record cards to make it appear that customers received government authorized vaccines.
Collectively, the charges demonstrate DOJ's commitment to investigate and ultimately prosecute alleged schemes that, in the agency's view, exploited the pandemic and the nation's public health emergency. These activities stem from the active work of the COVID-19 Fraud Enforcement Task Force, established in May 2021, to marshal the DOJ's resources to combat and prevent pandemic-related fraud.
In addition, on the same date as the DOJ's announcement, the Center for Program Integrity (CPI), Center for Medicare & Medicaid Services, separately announced that it has taken an additional 28 administrative actions against providers for their alleged involvement in fraud, waste, and abuse schemes related to the delivery of care for COVID-19, as well as schemes that capitalize upon the public health emergency.