New Jersey ASCs "Standard Charges" – Posting Requirements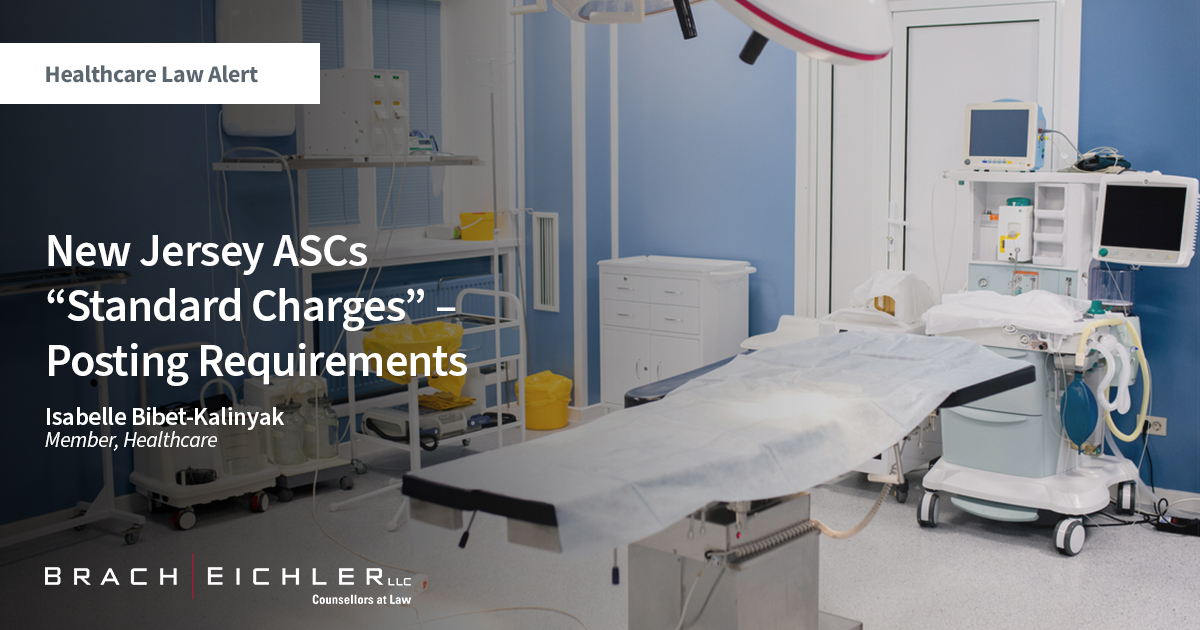 BACK TO INSIGHTS
Alerts
July 17, 2023
Question: Can you please clarify if New Jersey ambulatory surgery centers (ASCs) need to post standard charges on their website?
Answer: Yes, according to the requirements set forth in New Jersey state law N.J.S.A. 26:2SS-4(b), (c), ASCs are required to establish, update, and make publicly available a list of the facility's standard charges for items and services provided by the facility. This disclosure must be made available through the facility's website. The following specific information should be included on the website:
The health benefits plans in which the facility is a participating provider;
A statement concerning certain physician services provided in the facility;
The name, mailing address, and telephone number of the physician groups that the facility has contracted with to provide services including, but not limited to, anesthesiology, pathology, or radiology; and
The name, mailing address, and telephone number of physicians employed by the facility and whose services may be provided at the facility, and the health benefits plans in which they participate.
If the facility does not have a website, it should maintain the same information in a format readily available for patients' and caregivers' review. Furthermore, it is imperative that these standard charges be posted in compliance with applicable federal guidelines. Although there are no specific federal guidelines pertaining exclusively to ASCs' standard charges, pertinent insights can be derived from the federal regulations regarding hospital price transparency. According to federal regulations set forth at 45 CFR § 180.20, the term 'standard charge' denotes "the regular rate established by a hospital for an item or service provided to a specific group of paying patients." This includes the following:
(1) Gross charge;
(2) Payer-specific negotiated charge, including charges negotiated by third party payer managed care plans such as Medicare Advantage plans, Medicaid MCOs, and other Medicaid managed care plans;
(3) De-identified minimum negotiated charge;
(4) De-identified maximum negotiated charge; and
(5) Discounted cash price.
Although the above federal guidelines technically only apply to hospitals, they provide useful insight on the meaning and scope of the term 'standard charges' in the context of New Jersey law.  As such, New Jersey ASCs may rely on the federal definition of 'standard charge' in implementing the requirements set forth in New Jersey law. In its FAQs pertaining to the Hospital Transparency Act, CMS provides some useful examples on how facilities may display their standard charges. ASCs can follow the following format in publishing their standard charges on their website to comply with New Jersey law.
Example: A facility negotiates the following payer-specific charges with three payers for an individual item or service, for example, an imaging test identified by billing code '12345.'
For additional information regarding the posting of standard charges or any other ASC-specific matter, please contact Isabelle Bibet-Kalinyak, Esq. at IBK@Bracheichler.com or (973) 403-3131.
---
About Brach Eichler LLC
Brach Eichler LLC is a full-service law firm based in Roseland, NJ. With over 80 attorneys, the firm is focused in the following practice areas: Healthcare Law; Real Estate; Litigation; Trusts and Estates; Corporate Transactions & Financial Services; Personal Injury; Criminal Defense and Government Investigations; Labor and Employment; Environmental and Land Use; Family Law; Patent, Intellectual Property & Information Technology; Real Estate Tax Appeals; Tax; and Cannabis Law. Brach Eichler attorneys have been recognized by clients and peers alike in The Best Lawyers in America©, Chambers USA, and New Jersey Super Lawyers. For more information, visit www.bracheichler.com.
This alert is intended for informational and discussion purposes only. The information contained in this alert is not intended to provide, and does not constitute legal advice or establish the attorney/client relationship by way of any information contained herein. Brach Eichler LLC does not guarantee the accuracy, completeness, usefulness or adequacy of any information contained herein. Readers are advised to consult with a qualified attorney concerning the specifics of a particular situation.