New Jersey Department of Banking and Insurance Approves Horizon's Reorganization, With Conditions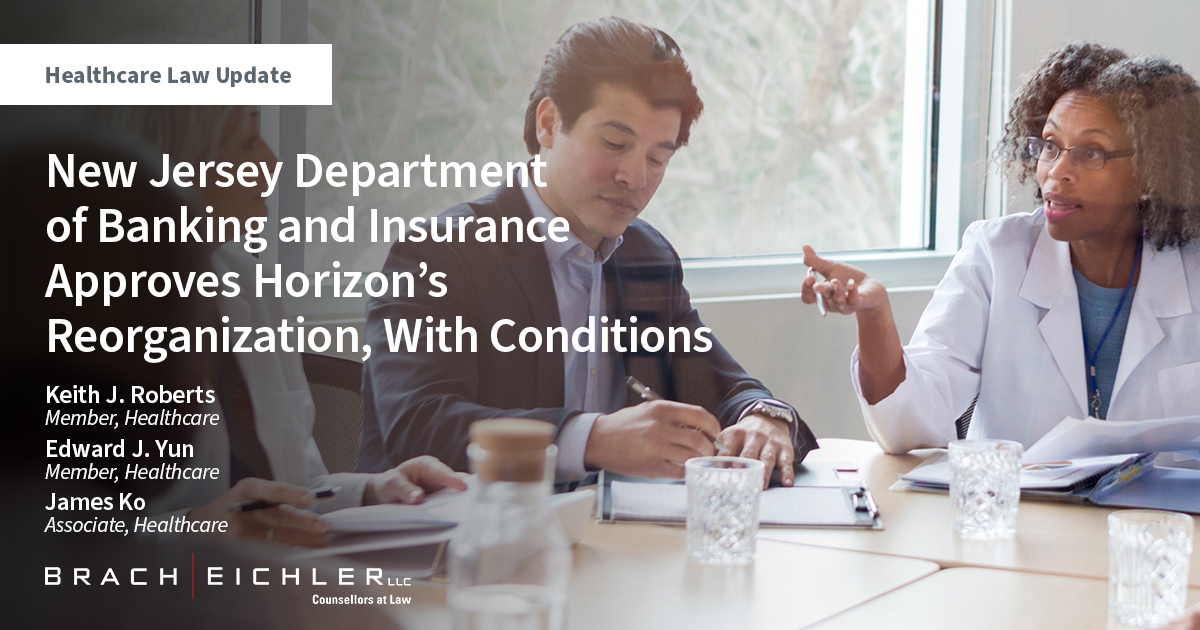 BACK TO INSIGHTS
Articles
Updated 12/22/2022
On November 1, 2022, the New Jersey Department of Banking and Insurance (DOBI) approved an application by Horizon Blue Cross Blue Shield of New Jersey (Horizon) to reorganize its corporate structure to a nonprofit mutual holding company. The approval is subject to 11 conditions imposed by DOBI to ensure that Horizon acts in the interest of its 3.7 million members, and maintains financially safe and sound insurance subsidiaries.
Notable conditions set forth by DOBI include: i) an obligation to continue to offer comprehensive medical coverage in every New Jersey county; ii) a dividend moratorium for three years; iii) minimum risk-based capital (RBC) requirements for subsidiaries or affiliates of Horizon in excess of authorized control level RBCs; iv) a parental guarantee to maintain their minimum RBCs; and v) a requirement to submit quarterly reporting of enterprise-wide RBCs.
Horizon's initial corporate structure restricted it from investing more than 2% of its reserves in any single venture. The reorganization lifts this restriction on Horizon's reserves, and allows Horizon to invest more freely in nonprofit and for-profit projects. In its reorganization application, Horizon stated that, after its reorganization, it would now have greater latitude to invest in its behavioral health and critical substance abuse areas.
DOBI's approval of the reorganization means that the state will soon receive a large influx of cash from Horizon. Horizon will pay the state an initial assessment of $600 million by June 1, 2023, and will thereafter pay ongoing annual assessments of no more than $650 million in total for the next seventeen years.