New Jersey Law Protects Health Care Workers During Ownership Change Of Control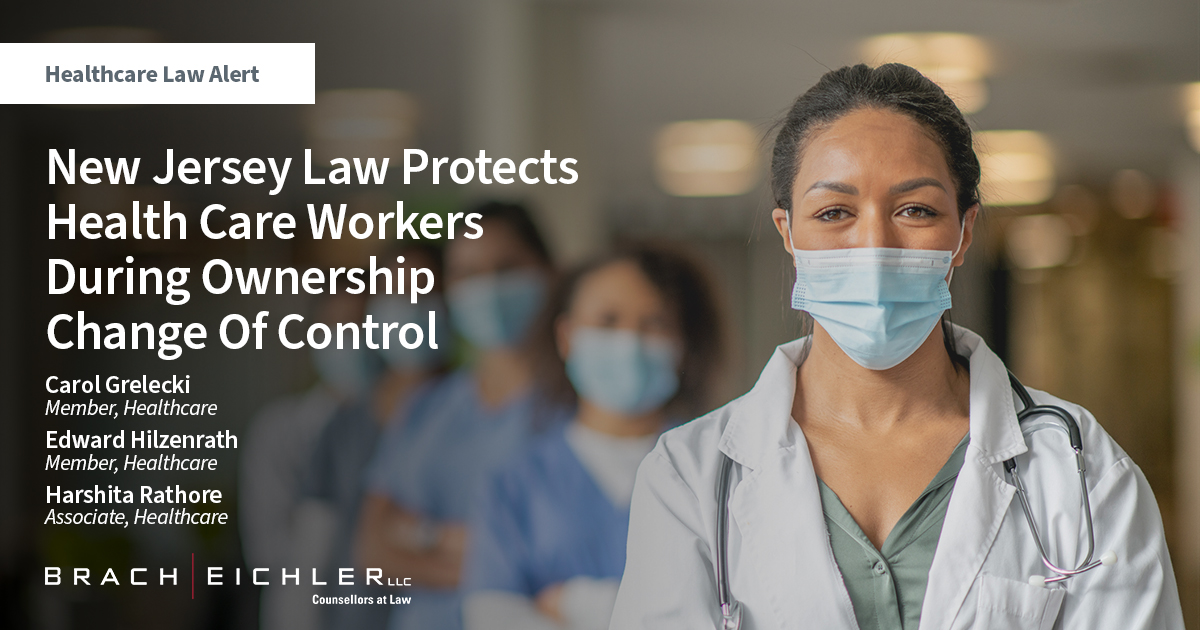 BACK TO INSIGHTS
Alerts
On August 18, 2022, Governor Murphy signed into law Senate Bill 315, to establish employment protections for eligible healthcare employees during a change in control of their healthcare entity employer. The law will be effective on November 16, 2022. The new law defines a "change in control" to mean any sale, assignment, transfer, contribution, or other disposition of a health care entity's assets or controlling interest, including by consolidation, merger, or reorganization.
Health care entities subject to the new law include general and special hospitals, ambulatory surgical centers, ambulatory care facilities, licensed imaging centers, public health centers, diagnostic centers, treatment centers, rehabilitation centers, extended care facilities, skilled nursing homes, nursing homes, intermediate care facilities, outpatient clinics, dispensaries, home health care agencies, and residential health care facilities. Private medical practices and governmental health care entities are not subject to the new law.  Eligible employees include non-managerial individuals employed within a 90-day period immediately preceding the change in control, with the exception of individuals discharged for cause by the former employer during that 90-day period.
Former Employer's Obligations
Not less than 30 days before a change in control, the former health care entity employer must:
Provide the successor employer and the employee's collective bargaining representative, if any, a list containing the name, address, date of hire, phone number, wage rate, and employment classification of each eligible employee employed;
Inform all eligible employees of their rights under the law; and
Post a notice setting forth the rights provided under the law, in a conspicuous location or locations accessible to all employees.
Successor Employer's Obligation
The new law requires that the successor health care entity employer must offer employment during a transitional period of at least four months following the change in control to each eligible employee, with no reduction of wages or paid time off, and no reduction of the total value of benefits, including health care, retirement, and education benefits.
During the four-month transitional period, all available employment positions must be offered in writing to eligible employees who previously held those positions and the offers must remain open for at least 10 business days.  In the event that the number of available employment positions are less than the total number of eligible employees, then employment will be based on seniority and experience. An employee who is retained pursuant to the new law cannot be terminated without cause during the transitional period unless the termination is a result of downsizing, in which case priority must be given to senior and experienced employees. Further, laid-off employees must be offered any positions they held, if they are subsequently restored during the transitional period. After the transitional period, the successor employer must evaluate all retained employees and offer to continue to retain them if their performance during the transitional period was satisfactory.
Exceptions for Collective Bargaining Agreements
The new law will not limit, delay, or prevent the recognition of a collective bargaining representative, or collective bargaining between the successor employer and the representative. Any action taken under such a collective bargaining agreement will not be considered a violation of the law.
If you have questions or need more information, please contact:
Carol Grelecki, Member, Healthcare Law, at 973-403-3140 or cgrelecki@bracheichler.com
Edward Hilzenrath, Member, Healthcare Law, at 973-403-3114 or ehilzenrath@bracheichler.com
Harshita Rathore, Associate, Healthcare Law, at 973-364-8393 or hrathore@bracheichler.com