Prosecutions for Prescribing Opioids Must Prove Criminal Intent, says SCOTUS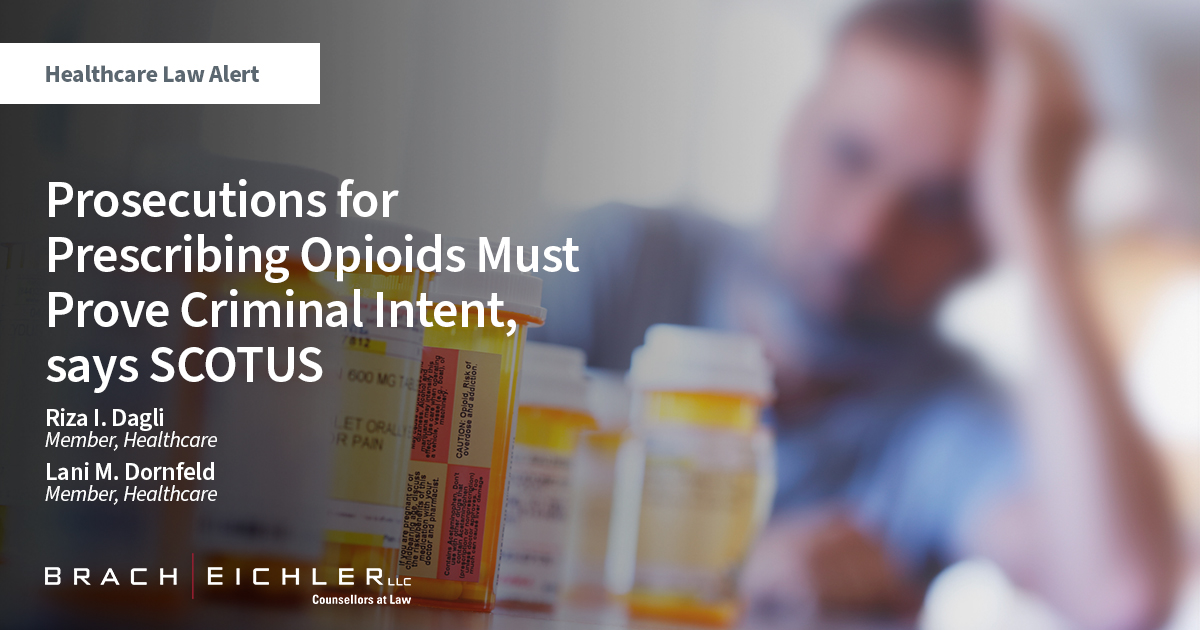 BACK TO INSIGHTS
Alerts
In the much-anticipated decision in Ruan v. United States (6/27/2022) involving the conviction of two doctors who had prescribed opioids, the Supreme Court of the United States provided an articulate and well-reasoned legal analysis of the requirement of criminal intent for convictions, but not much more than that.  Accordingly, it is important for doctors, nurse practitioners, and physician assistants to know what the decision says, and what it does not say.

Petitioners Xiulu Ruan and Shakeel Kahn were physicians convicted of violating 21 U. S. C. §841, which makes it a federal crime, "[e]xcept as authorized[,] . . . for any person knowingly or intentionally . . . to manufacture, distribute, or dispense . . . a controlled substance."  Ruan and Kahn had asked the trial court for specific jury instructions about criminal intent.  Those requests were denied, and the doctors were convicted.
What the Supreme Court Said

In both cases, the doctors asked the trial courts to instruct the jury that, to find guilt, the evidence must prove that the doctors knowingly and intentionally acted outside the accepted standards of medical practice.  Rather, the trial courts instructed the juries that they should determine whether the doctors acted in accordance with what a reasonable physician should believe to be proper medical practice.  The distinction is subtle, but important and ultimately the crux of the Supreme Court's decision.  The Supreme Court held that a conviction required that the government prove the particular doctor knowingly and intentionally acted in an unauthorized manner, not merely comparing the doctor to a hypothetical reasonable doctor.  In other words, to be found guilty of a crime, there is a mens rea requirement, which means the prosecution must prove, beyond a reasonable doubt, that the defendant had a guilty mind and intended to act in an illegal manner.
What the Supreme Court Did Not Say
The Supreme Court did not offer an opinion as to whether either  Ruan or Kahn had a guilty mind, or what a guilty mind looks like.  The Supreme Court did not say whether the prescriptions were, or were not, written in an unauthorized manner, or whether either doctor acted in good faith.  The Supreme Court did not say how a doctor could demonstrate he acted in good faith, or a prosecutor could prove he did not.
The Supreme Court avoided most of the facts of the two cases.  The underlying evidence of the prosecution of Ruan is troubling, and it is not clear that the verdict would have changed, even with a different jury instruction.  The evidence at trial showed that Ruan and his co-conspirator Dr. Patrick Couch, through their medical practice
 Physicians Pain Specialists of Alabama (PPSA),
 improperly prescribed two brand-name instant-release fentanyl drugs — Subsys and Abstral, which were FDA-approved for cancer pain, but Ruan and Couch prescribed them for neck, back, and joint pain, and often did not see their patients.   According to the United States Attorney's Office for the Southern District of Alabama:
The jury found that Dr. Ruan and Dr. Couch received illegal kickbacks from Insys Therapeutics, the manufacturer of Subsys, in exchange for the defendants prescribing massive quantities of this drug.  Dr. Ruan and Dr. Couch were both among the top prescribers of Subsys in the entire United States. With regard to Abstral, evidence showed that Dr. Ruan and Dr. Couch purchased approximately $1.6 million worth of stock in Galena Biopharma, the manufacturer of Abstral, and sought to manipulate the stock price by driving up Abstral sales.  From the third quarter of 2013 through 2014, Dr. Ruan and Dr. Couch were the number one and two prescribers of Abstral in the entire United States.  During this same time period, nearly one out of every three Abstral prescriptions written in the U.S. were written by either Dr. Ruan or Dr. Couch. As part of their criminal enterprise, Dr. Ruan and Dr. Couch owned C&R Pharmacy, which was co-located with one of the PPSA clinic locations.   C&R Pharmacy would only fill prescriptions written by the doctors at PPSA, and Dr. Ruan and Dr. Couch split 75% of the profits that came in from the prescription drug reimbursements.  Approximately 91% of the Subsys and Abstral prescriptions written by the defendants — which cost patients' insurance anywhere between $1,000.00 to $24,000.00 per month — were filled at C&R Pharmacy.
It is too soon to know the effect of Ruan v. United States on prosecutions of pain doctors.  In egregious examples of "pill mill" doctors, the additional burden of proving criminal intent will not be
difficult for the government.  Prosecutors will rely on evidence typical of those cases: doctors accepting cash for opioid prescriptions with no examination, prescribing opioids to patients with no discernable ailment, hiding the prescription from the medical chart, hiding the prescription from the insurance payor, financial arrangements with pharmacies, etc. 
However, the clarification by the Supreme Court does provide necessary guidance for those cases where a physician may be prescribing high doses of opioids and believes that the opioids are both necessary and authorized based on professional judgment.  Even if the conduct is outside the norm, a prosecutor would need to prove that the particular doctor knew the prescribing was outside accepted standards of medical practice. 
There are many efforts to combat the opioid epidemic, including additional CDC guidance, President Biden's 
proposed strategies for prevention, harm reduction, and treatment and recovery, litigation against manufacturers and distributors, and oversight and investigation by multiple state and federal agencies.  But the most critical part of the problem, and the most difficult to monitor, is the patient-doctor encounter.  
Every hour, in every town in America, thousands of patients with different ailments, pain tolerances, attitudes, levels of honesty, and abilities to persuade and intimidate, meet their pain doctors, who are also varied in skill, experience, compassion, and assertiveness.  Those combinations and interactions can produce a spectrum of results, including some opioid prescriptions that probably should not have been written.  Ruan v. United States does not tell us when those prescriptions are proper or improper, but does tell us a conviction requires more than just an improper prescription – it requires criminal intent.  
For more information, contact: