Scrutiny of Telemedicine at All-Time High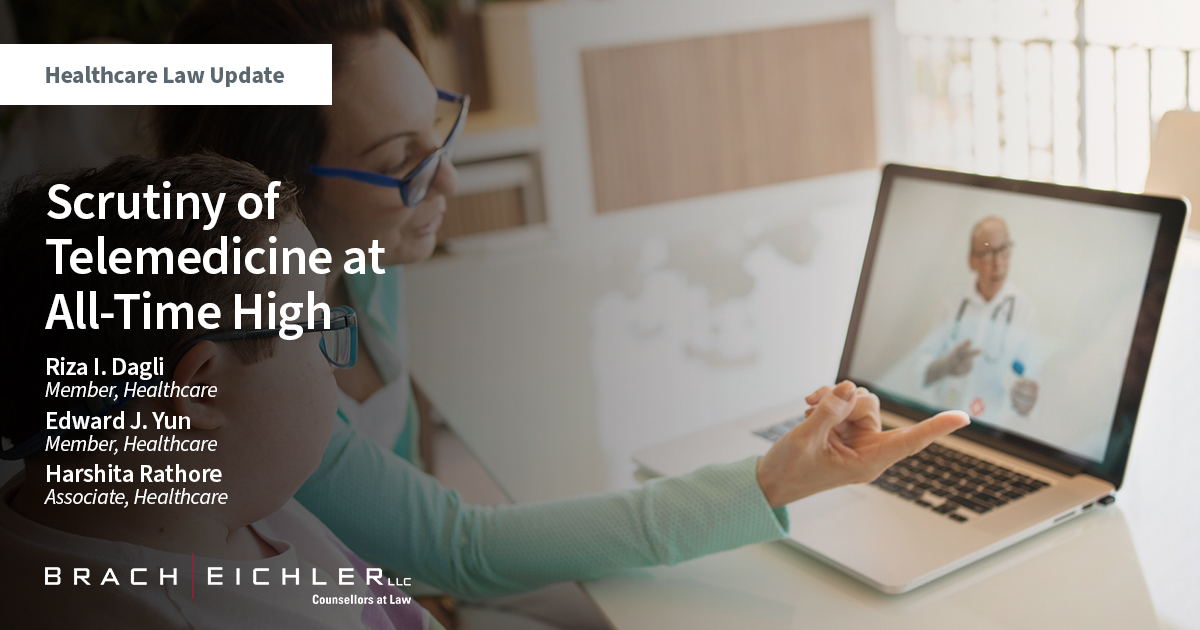 BACK TO INSIGHTS
Articles
The recent proliferation in telemedicine, telehealth, and telemarketing services as a care modality has intensified nationwide law enforcement scrutiny in the area.
On July 20, 2022, the U.S. Department of Justice (DOJ) announced charges against 36 defendants for $1.2 billion in health care fraud, with telemedicine schemes accounting for more than $1 billion of the total amount. The DOJ targeted telemedicine companies that allegedly recruit physicians to prescribe medications, durable medical equipment (DME), and cardiovascular and cancer genetic testing, which are either medically unnecessary or for patients never examined. The DOJ alleged the telemedicine companies then submit these fraudulent claims to federal healthcare programs, including Medicaid and Medicare.
In the wake of the DOJ crackdown, on July 20, 2022, the Office of Inspector General of the U.S. Department of Health & Human Services (OIG) issued a Special Fraud Alert detailing suspect characteristics in telemedicine arrangements and urging practitioners to exercise caution when entering into such arrangements with telemedicine companies. The alert identifies an illustrative list of suspect characteristics, which taken together or separately, suggest an arrangement with heightened risk of abuse and fraud including: (i) the patients for whom the healthcare practitioner prescribes or orders services or items were identified or recruited by the telemedicine company by advertising free or low out-of-pocket cost items or services; (ii) the healthcare practitioner has insufficient contact or information from the patient to assess the medical necessity of prescribed items or services, for example, the telemedicine company provides medical records that reflect only cursory patient demographic information or a 'template' medical history; (iii) the telemedicine company compensates the healthcare practitioner based on volume of items or services ordered or prescribed, but characterize it as based on the number of medical records reviewed; (iv) the telemedicine company only furnishes items and services to federal healthcare program beneficiaries and refuses to accept insurance from any other payor; (v) the telemedicine company fraudulently misrepresents to only furnish items and services to individuals who are not federal healthcare program beneficiaries, but then the company, in fact, bills federal healthcare programs; (vi) the telemedicine company restricts healthcare practitioner's treating options to a predetermined course of treatment, such as restricting prescriptions to only certain DME or prescription creams; and (vii) the telemedicine company does not expect, enable, or require healthcare practitioners to follow up with patients.
Healthcare practitioners who enter into arrangements with telemedicine companies in which one or more of these suspect characteristics are present should exercise care in order to avoid criminal, civil, or administrative liability, depending on the facts and circumstances.