Two of Brach Eichler's Healthcare Law Members Named by NJBIZ as "Leaders in Law"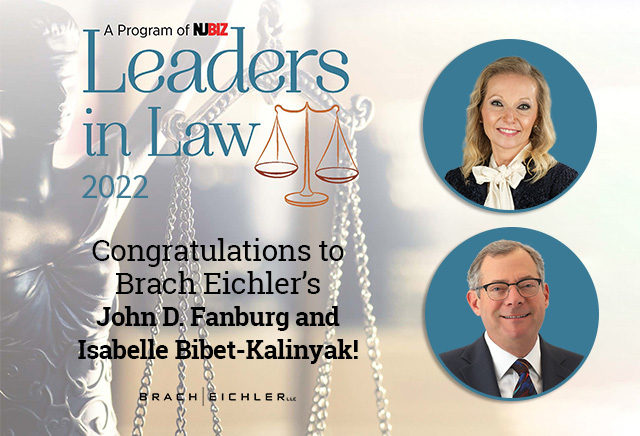 BACK TO INSIGHTS
Awards
Roseland, NJ (April 27, 2022) – Brach Eichler is proud to announce that Healthcare Law Member Isabelle Bibet-Kalinyak, as well as John D. Fanburg, Managing Member of the Firm and Chair of the Healthcare Law practice, have been selected as a 2022 "Leader in Law" by NJBIZ, recognizing "New Jersey's leading legal professionals—lawyers and general counsels—whose dedication to their occupation and to their communities is outstanding."
Isabelle Bibet-Kalinyak leverages her keen affinity for the healthcare industry and her deep knowledge of that sector to serve as a trusted legal advisor to health systems, specialty hospitals, telemedicine virtual platforms, physician group practices (anesthesia, behavioral healthcare, chiropractic, dermatology, family practice, internal medicine, gastroenterology, OB-GYN, male and female fertility specialists, ophthalmology/optical, pathology, pediatrics, psychiatry, radiology, surgery, urology, veterinary), ambulatory surgical centers, dialysis facilities, laboratories, long-term care facilities, and individual physicians on a broad range of complex healthcare matters involving corporate, compliance, licensing, fraud and abuse, HIPAA, business alignment, life cycle management, Medicare and Medicaid rules, and other payor matters.
For more than 35 years, John D. Fanburg has shown up for physicians and health care institutions in corporate, transactional, and regulatory matters. He's well known in New Jersey's bustling health care industry for excellence in transactions, perseverance in deal-making, and strength in corporate and regulatory matters, and throughout the pandemic has without a doubt been someone health care organizations look to for steady, trusted guidance. His broad experience representing major hospitals, diverse medical groups, solo practitioners, and statewide physician specialty groups has armed him with deep knowledge of the ins and outs of healthcare business practices. As Managing Member and Chair of Brach Eichler's Healthcare Law practice, Fanburg provides counsel to companies and individuals with interest in participating in the state's growing medicinal and adult use cannabis industries.
"Isabelle and I are incredibly proud to have been chosen among such esteemed, leading practitioners and professionals," John said. "We're thrilled to be recognized as thought leaders and more importantly for our dedication to the health care community as well as our clients."
Following an open nomination period, honorees were chosen by a panel of independent judges with experience in the justice system. A celebration showcasing these professionals will take place on Tuesday, May 24, 2022.