Why Use Mediation In Matrimonial Cases?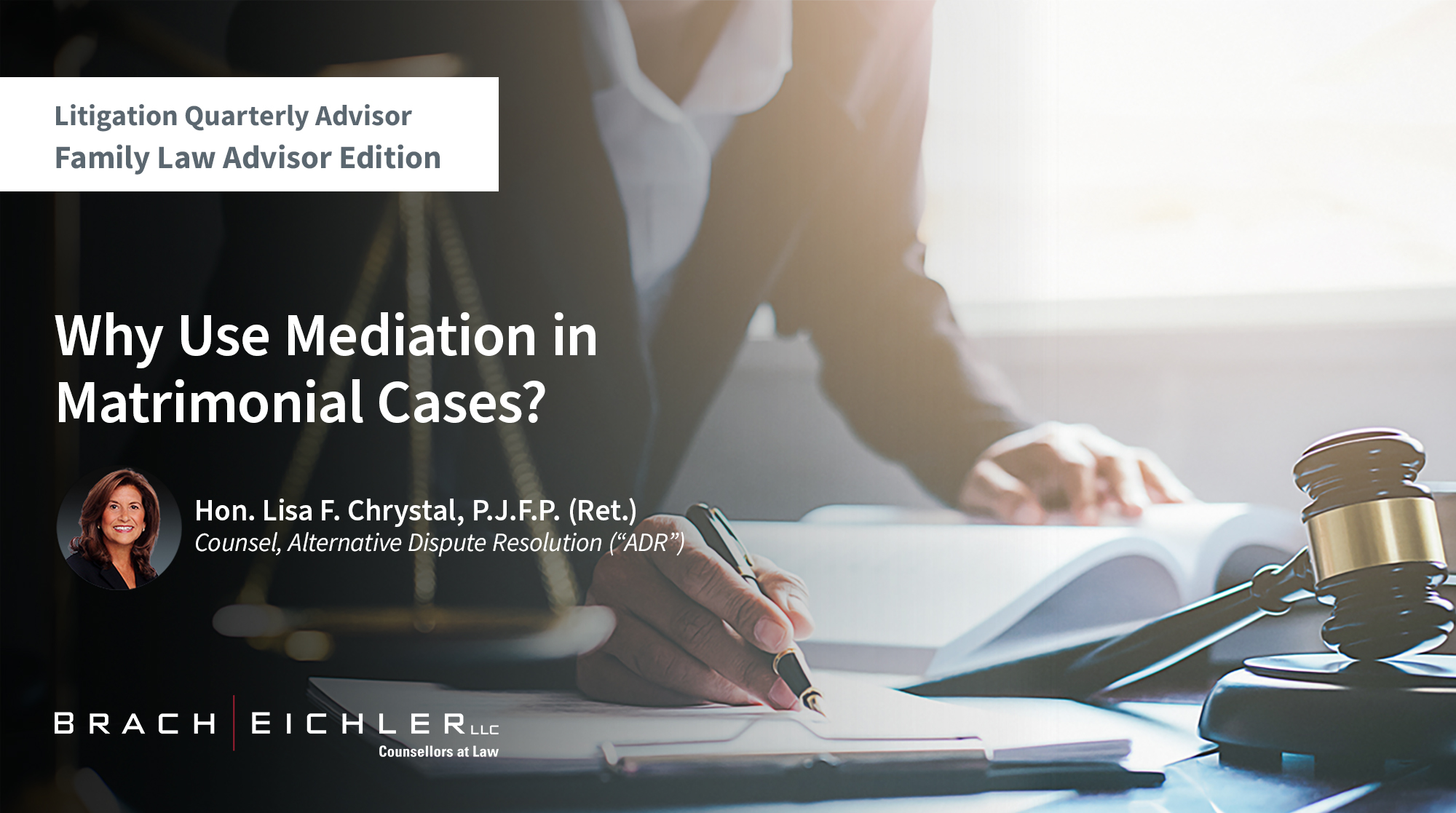 BACK TO INSIGHTS
Articles
Divorce is a crazy, emotional time, however it inevitably leads the couple to a new chapter. Mediation of a divorce case saves time, money and reduces stress of litigation. Mediating a divorce case with an experienced mediator will more likely result in an earlier and more economical settlement of that case. Mediation can result in a positive "reconfigured" family for the future.
The New Jersey Court Rules provide that mediation is an "integral part of the judicial process." NJCR 1:40-1. In fact, the Rules require mediation when custody is disputed. Divorce mediation of all issues is becoming increasingly popular for many reasons, and at every stage of the case. The most important decisions in the mediation process, may be the commitment to mediate and the selection of the mediator.
Why mediation?
The courts in New Jersey are very, very busy. There is currently a serious shortage of Judges. There is never enough time to devote to each case. Cases are often interrupted by emergencies. Preparation time, and review of submissions is often limited due to the number of cases listed on the court's daily calendar. Mediation on the other hand, focuses on one case at a time. The mediator has more time to devote to each case and more time to review the submissions from each party.
Most mediators will also ask for submissions in advance of meeting to allow them time to review, and will be prepared for the parties, when they walk through the door. Mediations can be conducted in person, or virtually. The mediator will speak to the parties directly and jointly, and often will conduct "shuttle diplomacy."
Cases decided in court risk motions for reconsideration, appeals, and never-ending lengthy litigation. Inevitably, one party will be unhappy. The best and most final resolution is the settlement the parties reach themselves, each party compromising for a fair, acceptable, prompt resolution.
What to look for in a mediator?
The selection of the mediator involves many factors. Is the mediator experienced at settling cases similar to your case? Does the mediator know and understand the law? Has the mediator spent time in the courtroom where your case will be litigated?
Mediation provides each party with more of an opportunity to "vent" than traditional litigation. Unless a party is testifying at trial, that party may never get to "speak" to the judge.
Is a retired Judge a good choice for a mediator?
Many retired judges will make good mediators. Retired judges look forward to helping litigants resolve cases without a long docket awaiting their attention. A retired judge has likely heard and decided thousands of similar cases each year, and conducted thousands of settlement conferences that are similar to your case. A retired judge that served as a "Presiding Judge," likely demonstrates leadership qualities and greater insight into the law and court process. In the end select an experienced mediator who has a depth of knowledge and experience, who will have insight into the dispute resolution process.
How can you prepare for mediation?
Both parties should be ready to compromise.
Provide all documents to the mediator in advance of mediation, such as financial information, recent tax returns, w-2 forms and all relevant information. In New Jersey, the parties are required to complete "case information statements" which is a budget of expenses, and list of liabilities and assets.
Consequently, attend mediation with a proposal for settlement. This should be shared with the mediator in advance of meeting. If custody and parenting time is an issue, exchange proposals and provide those to the mediator as well. Finally, you should be prepared to draft a "Marital Settlement Agreement" which will be necessary to be divorced.
Mediation can be conducted at any time in the divorce process. If the mediation is successful the parties can promptly file in court and obtain a date for an "uncontested divorce." But each party should consider consulting their own attorney before the final divorce is entered in court.
Mediation is a better venue than court to obtain a settlement. Hopefully after mediation, each party will feel they have been "heard."
If properly mediated and resolved, divorce can be the start of the next chapter, a "reconfigured" family, or a more positive relationship between the parties going forward.
For more information, contact:
Judge Lisa Chrystal (Ret.) | 973.364.8359 | lchrystal@bracheichler.com