Brach Eichler Adds Corporate Healthcare Transactional, Technology Attorney in New Jersey Amid Ongoing Expansion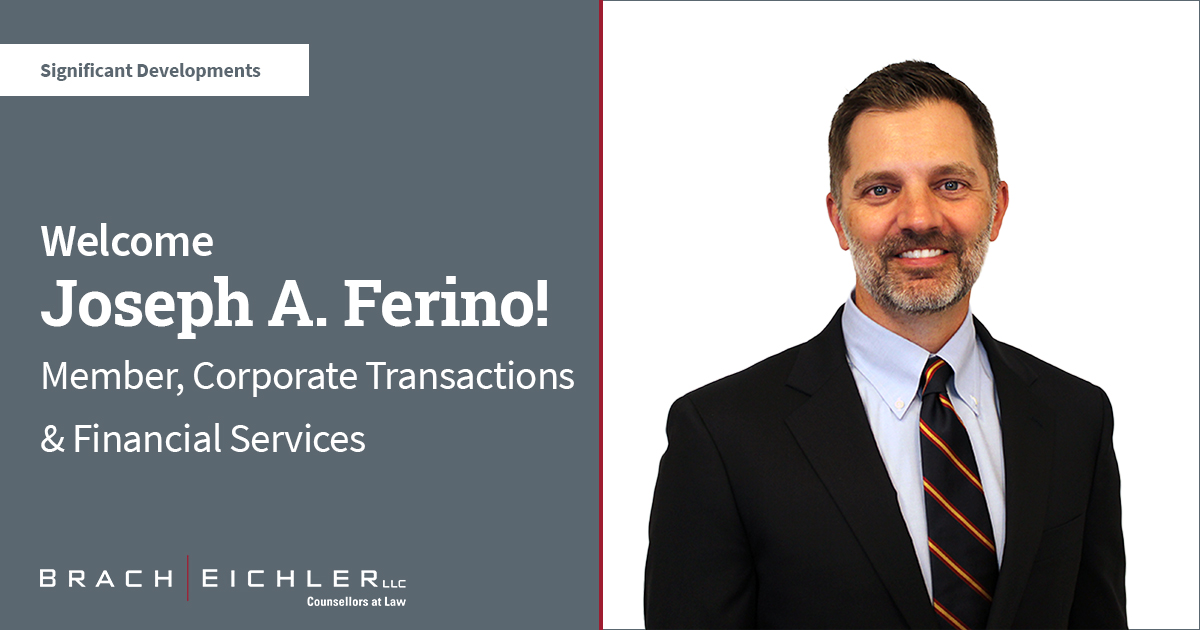 BACK TO INSIGHTS
Firm Announcements & Wins
Brach Eichler enhances corporate and healthcare practices with the addition of Joseph Ferino
Roseland, NJ (September 7, 2023) – – Brach Eichler LLC, a premiere full-service law firm with a specialty in healthcare law, is pleased to announce the arrival of Joseph A. Ferino as a member in the firm's national Corporate Practice Group. Mr. Ferino will be based in the firm's Roseland, NJ office. Ferino brings a combined breadth of experience in corporate, finance, and technology transactions across the healthcare industry.
Ferino's practice focuses on advising emerging growth companies in the technology and healthcare industries, as well as the investors that support and acquire these companies.  Ferino represents companies from startups to long-established businesses. He has represented numerous clients in corporate finance transactions, including equity and debt financings and a myriad of other corporate and commercial matters. He handles game-changing mergers and acquisitions, including stock and asset purchases, and advises clients on corporate governance and formation matters within the healthcare and technology industries. Ferino also provides guidance on the complex issues that arise from recent changes in securities law and other regulations. He stays abreast of rapid innovations in key emerging technologies, including those relating to blockchain, smart contracts, digital currencies, and proptech, and anticipates how they will affect his clients.
"Work around emerging technologies and data has been on a remarkable upward trajectory, most notably in the healthcare industry," Ferino said. "I was seeking a national platform that could support the growth of my practice while also offering the resources and connections to take our client servicing capabilities to another level, and Brach Eichler is the best firm to provide that."
Ferino is a leading voice in the venture capital ecosystem, guiding entrepreneurs and investors on disruptive technologies and business strategies. He frequently presents on emerging topics and has also served as an adjunct professor on the subject of high-growth corporate transactions at the Jacobs Technion-Cornell Institute. Ferino's practice includes mergers and acquisitions, private equity transactions, venture capital, corporate governance issues, and securities law matters. With a specific focus on assisting healthcare companies, he has counseled companies in transactions across the manufacturing, restaurant, and advisory industries, among many others.
"Joseph Ferino brings a passion for supporting companies at critical junctures around structuring their business, transacting deals, and developing and securing company assets. We could not be more enthusiastic about joining forces with Mr. Ferino. From the outset of our discussions, we quickly realized that we share complementary practice and industry strengths and a collaborative culture that focuses on providing exceptional client service," John D. Fanburg, Brach Eichler Managing Member. "We are confident this move will accelerate our growth and lead to long-term, sustained success."
"With this strategic combination, Ferino gains a larger geographical footprint, deeper resources, and a broader network that allows us to expand the range of services we provide to our clients across the nation," said Mr. Brian Lenker, Chair of Brach Eichler's Corporate Transactions and Financial Services practice.
"Given our strength in representing healthcare providers and executives throughout New Jersey, in both transactional and litigation matters, Ferino provides an excellent complement to our firm with a skillset enhancing our ability to deliver excellent results to our clients," said Keith Roberts, Chair of Brach Eichler's Litigation Department.