Preparing for and Responding to Suspensions of E-commerce Accounts Due to Infringement Claims
E-commerce sellers should contemplate pre-emptive legal and business arrangements to ameliorate potential consequences from account suspensions due to claims of IP infringement.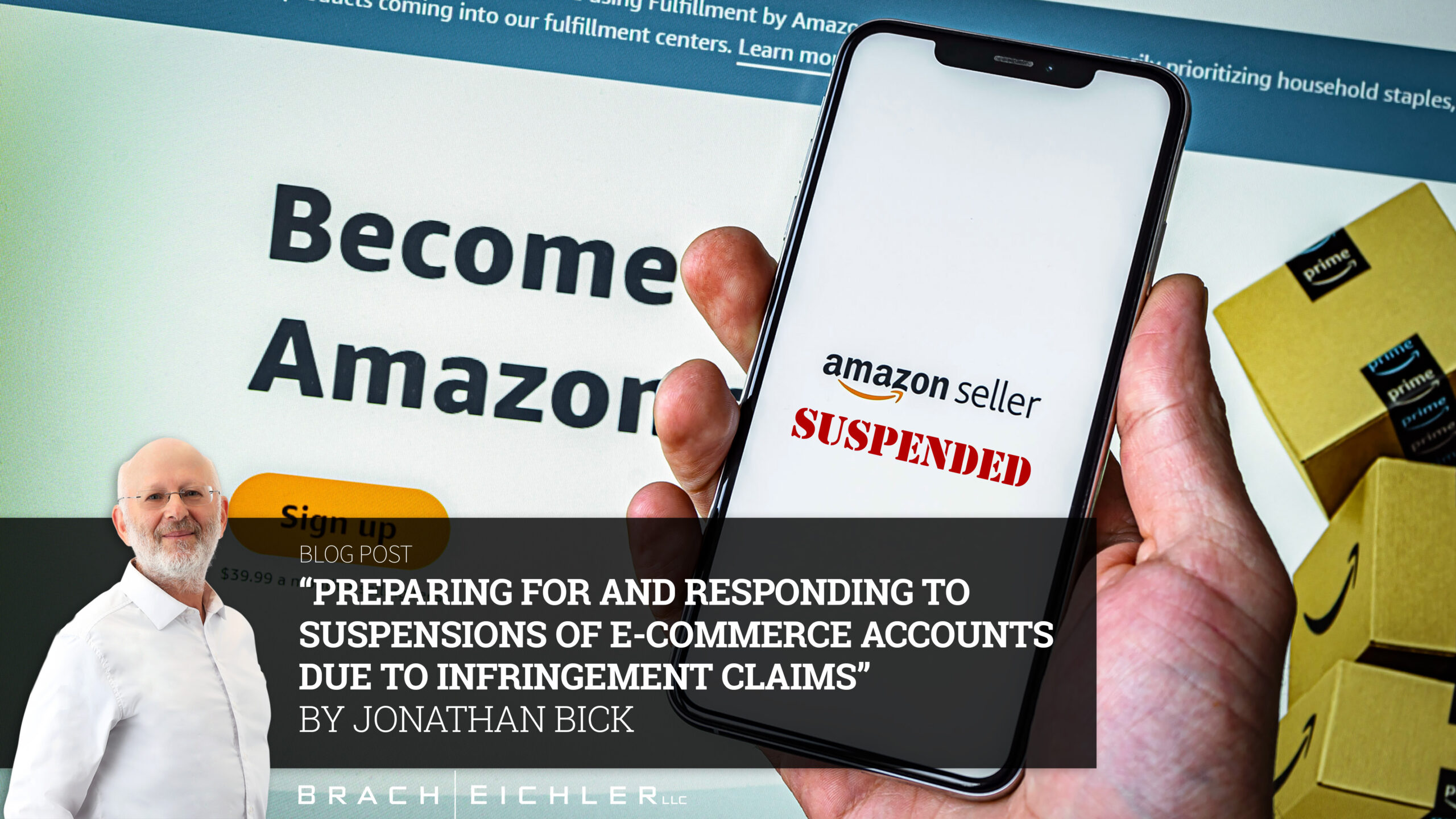 BACK TO INSIGHTS
B|E in the News
8 minute read
The ascendency of selling via e-commerce channels is due in part to how quickly a seller may access an e-commerce platform. Lamentably, e-commerce channel providers' suspension of sellers' accounts associated with alleged intellectual property infringement is equally fast, and suspension remediation is time-consuming and costly. Consequently, e-commerce sellers should contemplate pre-emptive legal and business arrangements to ameliorate potential e-commerce account suspensions consequences.
Consider Amazon, for example, in response to a deluge of infringement claims, Amazon has implemented an aggressive seller account suspension policy. This policy is disclosed in the Amazon seller's account terms of service agreement.
Amazon's seller account agreement includes terms that authorize Amazon to suspend a seller's account for virtually any reason, including for its own "convenience with 30 days' advance notice." A seller's account suspension or termination may be immediate if a legal difficulty (such as intellectual property infringement) exposes Amazon to direct liability.
The Amazon terms of service require Amazon sellers to comply with intellectual property laws, which includes patent, trademark and copyright. Failure to do so may result in the suspension of the seller's Amazon access.
Patent and copyright infringement occur due to the unconsented use of another's patent and copyright respectively. Trademark infringement is the unauthorized use of a trademark or service mark on or in connection with goods and/or services in a manner that is likely to cause confusion, deception, or mistake about the source of the goods and/or services.
The Amazon Terms of Service require Amazon sellers to represent and warrantthat, in the transaction, neither the goods (or services) nor Amazon postings will infringe a third party's intellectual property. The Amazon Terms of Service also shift the duty of providing acceptable evidence of non-infringement (of intellectual property) to Amazon sellers in order to avoid the suspension of the Amazon seller's account.
The first step, to avoid a lengthy account suspension, is to secure a preemptive agreement requiring a third party (i.e., the relevant intellectual property rights owners) to respond to an Amazon suspension notice. Such a response agreement requires an Amazon seller to secure a contract clause (or an authorization letter) from the rights owner prior to posting on Amazon. Such a contract or letter is a warranty and representation that the intellectual property holder will timely address Amazon suspension matters, if appropriate.
For example, such a clause might be:
ABC, the manufacturer and distributor of product P, hereby represents and warrants to XYZ, an Amazon seller, that ABC is the sole and exclusive owner or valid licensee, and/or authorized user of all right, title and interest in and to the product P, and will promptly provide Amazon confirmation that XYZ is authorized to display and sell product P on Amazon.
Generally, Amazon will promptly reinstate suspended goods (and accounts) if the rights owner confirms the intellectual property is complete, is incorrect, or the Amazon seller adversely affected by said compliance is authorized to post the intellectual property on Amazon. In short, working with the rights owner before (rather than after) receipt of an Amazon suspension notice is likely to be the fastest and least expensive solution process.
The second step is to prepare an independent alternative to the Amazon seller's account. This backup internet sales channel might be either a branded Internet site (i.e., an internet selling site owned and operated by the owner of the Amazon seller's account) or an Amazon backup seller account.
Having such a backup internet sales site will allow a business to temporarily continue while Amazon investigates the suspension. This business arrangement requires at a minimum using: a different email, a different company name, different personal name, different ship-to and ship-from addresses, a different credit card from a different bank, and a different IP log in address (perhaps using a proxy). Once the seller's account is reinstated, this back up seller account should be retired (in preparation for future use).
The third step is to be prepared to participate in an Amazon suspension appeal process, as well as prepare to litigate an Amazon suspension in court. In 2021, Amazon changed its terms of service to allow sellers to bring lawsuits against the company instead of having to go through an arbitration process. Amazon's terms of service now state: Any dispute or claim relating in any way to your use of any Amazon Service will be adjudicated in the state or federal courts in King County, Washington, and you consent to exclusive jurisdiction and venue in these courts. We each waive any right to a jury trial.
Amazon sellers' preparation to participate in an Amazon suspension appeal process as well as prepare to litigate an Amazon suspension in court are twofold. First, evidence of non-infringement should be collected. Second, budgeting for the appeal and/or litigation should be considered.
The type of non-infringement evidence depends upon what type of infringement is disclosed in the Amazon suspension notification. The most common basis for Amazon infringement suspension notices is copyright infringement. Amazon seller copyright suspension notices focus on an Amazon seller's unauthorized use of another's content or images on the Amazon seller's Amazon site.
Consent to use copyrighted content (such as use of the content with a license agreement in place) is an excellent defense against a claim of copyright infringement. Thus, evidence of non-infringement may be any memorialization of consent by the copyright owner that the Amazon seller may display the copyright owner's content or images on the Amazon site.
The next most common source of Amazon infringement suspension notices is trademark infringement. This type of infringement suspension is normally based on a complaint by the owner of a registered trademark against an Amazon seller who uses a third party's registered trademark to sell products on the Amazon site.
The first sale doctrine states that those who resell genuine trademarked products are not liable for trademark infringement. More specifically, the first sale doctrine provides that an individual who knowingly purchases a copy of a copyrighted work from the copyright holder receives the right to sell, display, or otherwise dispose of that particular copy, notwithstanding the interests of the copyright owner (see 17 U.S.C. §109). Thus, evidence of non-infringement by Amazon sellers is usually invoices from authorized sellers licensed to use the registered trademark on their products to the Amazon seller.
The third most common source of Amazon infringement suspension notices is patent infringement. Ownership of a patent gives the patent owner the right to exclude others from making, using, offering for sale, selling, or importing into the United States the invention claimed in the patent (see 35 U.S.C. 154(a)(1)). In short, evidence of non-infringement by Amazon sellers is usually an authorization letter from the patent holder that the Amazon seller is selling a patented product with a proper license.
It may be advisable for an Amazon seller to evaluate the underlying fact in the event of an Amazon suspension based on a patent infringement claim. In addition to an Amazon suspension, a patent-infringement legal difficulty results in the loss of 100% of the profits made by the sale of a product that infringed on the patent holder's rights both on Amazon and elsewhere.
As noted, in addition to preparing evidence for a litigation (or suspension), budgeting for such a difficulty should be considered.
This might consist of the use of insurance, particularly infringement defense insurance, which provides cover when a claim asserts intellectual property infringement, and it will provide an attorney and cover the legal defense costs.
Some Amazon seller account suspensions based on intellectual property complaints may be reversed by Amazon directly. A response to an Amazon seller's account suspension due to an intellectual property infringement complaint, which discloses that the alleged infringing matter is in connection with the sale of a product that has never been listed on an accused seller's Amazon site, will result in an Amazon investigation to determine if there was an error on their part, and if the response is correct, Amazon will lift the suspension.
Similarly, if an Amazon seller receives a trademark infringement notice and associated account suspension, an Amazon automatic restoration procedure is available. Specifically, the seller need only access the Amazon Account Health Dashboard and attach an invoice or order ID that shows the authenticity of the product. Amazon will restore the suspended account.
Jonathan Bick is counsel at Brach Eichler in Roseland, and chairman of the firm's Patent, Intellectual Property & Information Technology group. He is also an adjunct professor at Pace and Rutgers law schools.