Brach Eichler Awarded Multiple Honors in 2022 NJLJ Legal Awards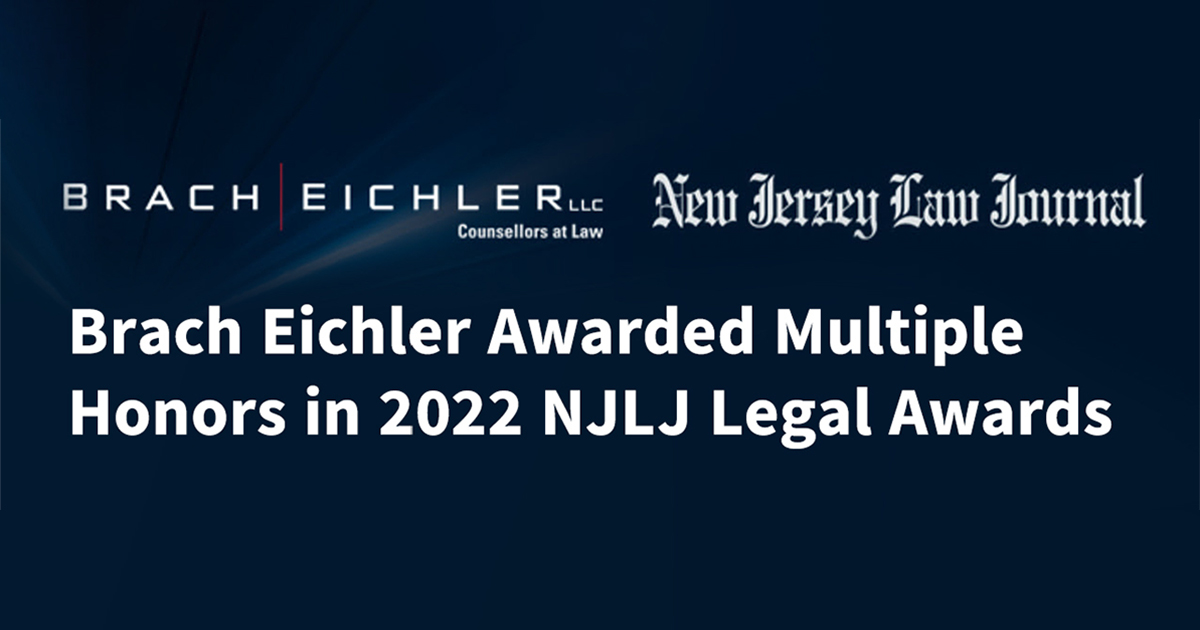 BACK TO INSIGHTS
Awards
Brach Eichler Recognized By The New Jersey Law Journal for Law Firm of the Year and Litigation Department of the Year
The New Jersey Law Journal has announced this year's honorees for the 2022 New Jersey Legal Awards. Brach Eichler is honored to be a finalist for "Law Firm of the Year" one of only three firms selected this year. Additionally, for the 2nd year in a row, the firm has been named the "Litigation Department of the Year" for our specialty practice in Healthcare Law.
To receive the honor of "Law Firm of the Year" Brach Eichler was recognized as a firm that had the best and most meritorious submissions across multiple categories. The award aims to recognize the NJ firm that has demonstrated a broad spectrum of achievements in the past year. The winner of the Best Law Firm for 2022 will be announced at the awards dinner reception on September 29th at the Brooklake Country Club in Florham Park.
Brach Eichler Managing Member John D Fanburg said, "this prestigious honor goes to a law firm that has had an exceptional year across its service offerings, netting big wins but also showing a commitment to and progress in areas not solely related to its practice, such as diversity or innovation in how legal services are delivered. We are truly humbled by this recognition."
Additionally, for the second consecutive year, Brach Eichler's Litigation Department is to receive the honor of "Litigation Department of the Year" for our specialty practice in Healthcare Law. To receive this award, Brach Eichler highlighted its excellence in 2021 by resolving healthcare litigation matters for clients, working on significant appeals, handling cases that lead to impactful court decisions or other changes in the law, and otherwise achieving the status of strong and effective advocates.
Healthcare Member, and Litigation Chair, Keith Roberts said, "We are humbled and honored to be recognized by the most prestigious legal news source in the State of New Jersey. We are proud to be a leader and attribute this win to our experienced team of healthcare litigation Counsel, Associates, and professional staff. This award is a testament to their skill and dedication. Every day we aim to deliver the best strategic advice for our clients in our pursuit of excellence as trial lawyers."
Congratulations to Alex Capozzi who was recognized by the New Jersey Law Journal as a New Leader of the Bar. This achievement acknowledges attorneys yet to reach the age of 40 who bring both notable achievements and outstanding potential to the table.
In winning these honors, Brach Eichler and its Healthcare Litigation Department has continued to confirm its credentials as one of the best firms for healthcare, based on prestigious accolades awarded by The American Lawyer and its sister publications. The honorees will be recognized at this year's gala, scheduled for September 29, as well as in special magazines to be published at that time.
John D. Fanburg, Esq.
Managing Member and Chair, Healthcare Law
Keith J. Roberts, Esq.
Member and Chair, Litigation