New Jersey Law Journal Names Brach Eichler their "2022 Healthcare Litigation Department of the Year"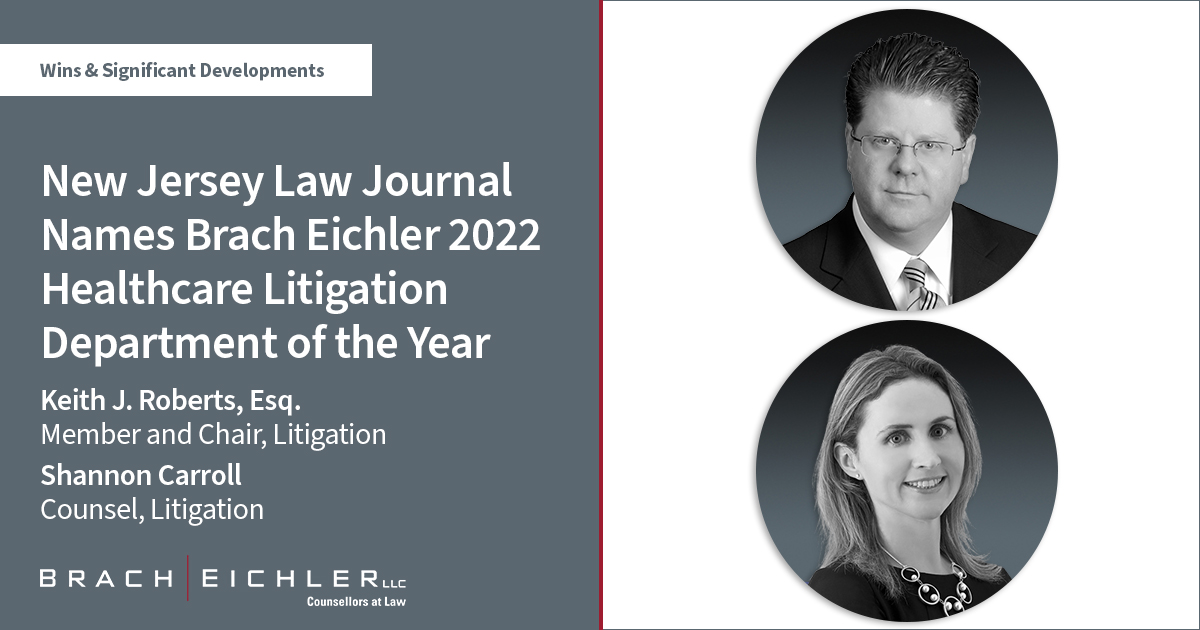 BACK TO INSIGHTS
Awards
New Jersey Law Journal* Names Brach Eichler their "2022 Healthcare Litigation Department of the Year"
Brach Eichler's healthcare litigation practice once again earned this prestigious recognition as a result of helping clients with the challenges of adapting to the changing environment in healthcare, particularly in the area of complex reimbursements disputes, insurance fraud, disciplinary proceedings, and regulatory changes affecting their practices and medical licenses. Brach Eichler has litigated and secured for clients millions of dollars of denied claims arising from medically necessary treatment. As a result of Brach Eichler's groundbreaking work helping physicians navigate the opioid crisis, physicians are able to find solutions meeting the new standard of care and avoid substantial licensure penalties.
To read more about Brach Eichler's 2022 recognition as "Litigation Department of the Year" and as a finalist for "Law Firm of the Year" please click here.
*No aspect of this advertisement has been approved by the Supreme Court of New Jersey. Click here for the Awards and Honors Methodology
Keith J. Roberts, Esq.
Member and Chair, Litigation
973-364-5201 | kroberts@bracheichler.com
Keith Roberts focuses his practice on complex litigation and healthcare. He is certified by the New Jersey Supreme Court as a Civil Trial Lawyer. He is often consulted by healthcare professionals for his extensive insight concerning regulatory issues, practice structures, insurance audits, and compliance. An experienced litigator, Keith handles some of the largest, most complex, and high-exposure cases with an in-depth understanding of the law and a command of the facts to strategically achieve his clients' litigation objectives. Keith is often called upon to represent hospital systems, surgical centers, medical practices, and a wide array of healthcare professionals in complex litigation matters.
Shannon Carroll
Counsel, Litigation
973.403.3126 | scarroll@bracheichler.com
Shannon Carroll's practice focuses on healthcare litigation, complex commercial litigation, compliance, and healthcare fraud. She has experience in all aspects of litigation from the client intake process through trial.
Shannon represents doctors and other healthcare providers in civil and administrative actions involving fraud allegations, reimbursement issues, and contract disputes. She has also successfully represented healthcare clients in disputes involving restrictive covenants, shareholder oppression, and unfair competition.