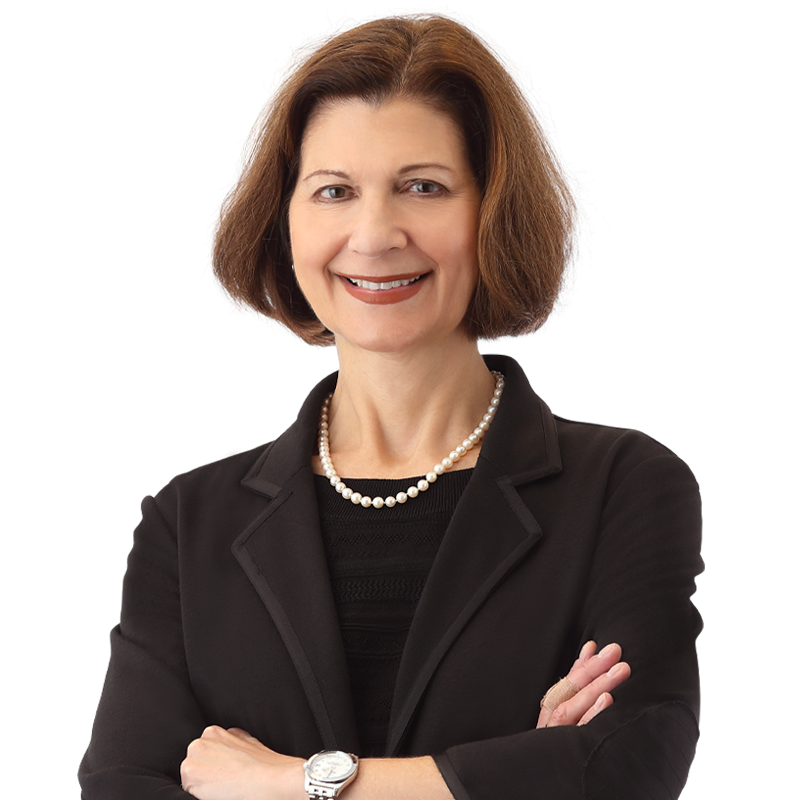 Practice Areas
Bar and Court Admissions
Florida
New Jersey
U.S. District Court, District of New Jersey
Education
Seton Hall University School of Law, J.D.
cum laude
Rutgers University, MCRP
University of New Hampshire, B.S.
Susan R. Rubright,
Member
Susan Rubright is a detail-oriented, dedicated, and thoughtful attorney with a thorough understanding of all aspects of real estate and real estate development. She has the ability to place development issues into the transactional context, including due diligence, purchase agreements and leases, land use, environmental permitting, and construction costs/timing. She has comprehensive experience with commercial developers and individuals in obtaining development (site plan, subdivision, and zoning variance) approvals. Representative clients include apartment, multifamily, and single-family home builders; national pharmacy stores; retail centers; national renal dialysis centers; and other medical providers. Susan also takes pride in solving land use and municipal problems for individuals, small business owners, and non-profit groups who might otherwise find the process daunting.
Susan understands the redevelopment process from multiple angles. She has worked with redevelopers in pursuing redevelopment designations and related approvals. She has represented a planning board in designating areas "in need of redevelopment" and reviewing the related redevelopment approvals and agreements. She has also sought the removal of properties from inclusion in a redevelopment area, first by asking and then by filing suit.
Susan also counsels public and private clients on such complex matters as affordable housing and COAH, rezonings, environmental permitting, the Highlands Act, code compliance, farmland preservation and the Right to Farm, open space acquisition, and the Open Public Records Act (OPRA). Susan was the author of legal briefs on a novel statutory conflict issue between the Municipal Land Use Law and the Right to Farm Act. She negotiated and coordinated the first simultaneous closing in New Jersey that utilized state, county, and municipal farmland preservation funding in order to purchase development rights. She also prepared the model telecommunications ordinance used by numerous municipalities in the state.
On a weekly basis, Susan appears before planning and zoning boards throughout northern and central New Jersey, and regularly appears before such boards in Livingston, West Caldwell, West Orange, Florham Park, Wayne, Paterson, Newark, Flemington, and Tewksbury. When necessary, Susan litigates land use and zoning matters on behalf of private and public clients.
Susan currently serves as planning (combined planning and zoning) board attorney for Raritan Borough in Somerset County and the Borough of Far Hills. Previously, she served as zoning board attorney and planning board attorney for White Township, planning board attorney for Hillsborough Township, planning board attorney for the Town of Phillipsburg, planning board attorney for Bloomsbury Borough, and land use board attorney and special land use board counsel for Bethlehem Township. She has done real estate work for Lebanon Township, Lopatcong Township, and the City of Plainfield.
When representing governing bodies with borough, township, or town forms of government, Susan works to streamline procedures and promote efficiency and has done so on numerous issues including the development of budgets and capital improvement spending plans, bid documents, and contracts. She formerly served as municipal attorney for Tewksbury Township, Lebanon Borough, Bethlehem Township, and Hardwick Township, and as assistant municipal attorney for the Borough of North Plainfield, East Amwell Township, Washington Borough (Warren), and Hampton Borough, and the Town of Clinton, Franklin Township (Hunterdon), Washington Township (Warren), and Paramus Borough.
Prior to her legal career, Susan served as a staff planner for the Somerset County Planning Board. Susan was honored by the Somerset County Commission on the Status of Women as its "Outstanding Lawyer for 2012." She was also named "Associate of the Quarter" for the 3rd quarter of 2014 by the Metropolitan Builders and Contractors Association.
Susan is certified by the NRA to teach First Steps Pistol, Basic Pistol, Personal Protection in the Home, and Personal Protection Outside the Home and enjoys teaching new and experienced shooters on a regular basis. She is also certified by the NRA as a Range Safety Officer. Susan actively volunteers with animal rescue groups and is pursuing dog training as a hobby.

Professional Activities
+
Bernards Township Cable Advisory Task Force (2008 – 2010)
Borough of Peapack & Gladstone Land Use Board (Vice Chair 2018)
Borough of Peapack & Gladstone Master Plan Re-examination Committee, (2013 – 2015)
Borough of Peapack & Gladstone Environmental Commission (1978 – 1982)
Cedars at Basking Ridge Condominium Association, Vice President (1993 – 1996)
Member, Florida Bar Association
Member, New Jersey State Bar Association
Metropolitan Builders & Contractors (Formerly CBRA) (2008 – present), Member, Board of Directors (2011 – present), Associate Vice President (2015 – 2016)
New Jersey Bar Association, Land Use Law Section (1995 – present)
New Jersey Builders Association, Legislative Affairs Committee (2010 – present)
New Jersey Planning Officials (2003 – present) Associate Counsel (2009 – 2014) Assistant Counsel (2015 – present)
Somerset County Bar Association (2013 – present), Co-chair Real Estate Committee (2015 – present)
Somerset County Business Partnership (2011 – present)
Somerset County Office on Aging Advisory Council (2008 – 2011)
Somerset County Federation of Republican Women (2002 – present), Vice President (2010 – 2012)
Insights
+
Blog
+